Non-Surgical Procedure: Perlane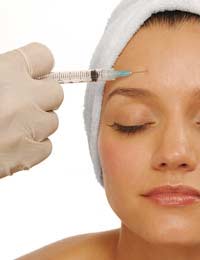 Let's face it, a facelift is expensive, requires a lot of recovery time, and can have disastrous results. That's why more and more people are seeking non-surgical ways to make them look younger. Dermal fillers are just one method used to fill out wrinkles and plump up lines in the face, giving volume and the appearance of youth. That's why Perlane is quickly becoming one of the most popular dermal facial fillers worldwide, especially amongst people with deeper lines, wrinkles and folds.
What is Perlane?
Perlane is an injectable gel that acts as a dermal filler. It is becoming more and more widespread as a non-surgical cosmetic procedure, both here and abroad, in part because the effects of the injections last up to twice as long as collagen-based fillers. Made of non-animal-sourced hyaluronic acid, Perlane is made of gel particles that are larger than those in Restylane, which is manufactured by the same company, so is more suitable for deeper wrinkles.
What is Perlane Used For?
Perlane is used to enhance the look of the face, making it appear plumper, fuller and rounder. It can shape the contour of the face and enhance lips, and also corrects deep folds in the face and chin. It is a lot cheaper than plastic surgery, and if you don't mind having lifetime top-ups it can dramatically reduce the appearance of fine lines and wrinkles in most people. It is also used to help augment the chin, fill cheek depressions, reduce smoker's lines, soften acne scars and jowls, and correct depressions in the face following significant weight loss.
How are Perlane Injections Performed?
Unlike collagen and some other fillers, because Perlane is not sourced from animals there is no need for a skin test beforehand. The entire treatment only lasts about half an hour, and a topical anaesthetic is often used before the injections are carried out. An ultrafine needle is used and the pain is what you would feel with any injection. If you have a needle phobia, close your eyes - or stay away!
How Long Does Perlane Last?
After you have a Perlane injection you will see virtually instantaneous results. They will last up to nine months, although you need regular top-ups to keep the effect intact. When you stop having top-ups the substance will safely disappear into the skin.
Are There Side-Effects with Perlane?
Like most dermal fillers, many people experience a slight redness and itching, bruising or swelling immediately after the treatment. This usually subsides within one week, if it persists then you should consult your doctor. People who have herpes often experience a flare-up after a Perlane injection, so discuss this with your doctor as well. The treatment is not suitable for pregnant or breast-feeding women, and people taking blood thinners.
How Much Does a Perlane Treatment Cost?
Costs vary, depending on how much is needed and location of the clinic or doctor's office where the treatment is carried out. But you can expect to pay at least £250 for a session, and often clinics offer discounts if you book several at a time to keep you coming back.
Time takes its toll on everyone, and most of us are not content unless we try to disguise that fact. If you're looking for a temporary solution to those annoying wrinkles and lines, Perlane just may be the answer. Just make sure you find a qualified practitioner to administer the treatment - and don't be surprised if you end up coming back for more.
You might also like...