What is Chin Reduction Surgery?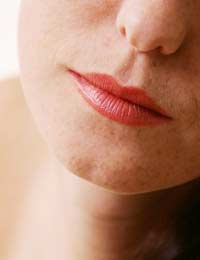 A defined jawline and jutting chin are often signs of a strong personality, but what to do if your chin is simply too big or sagging? These days, people no longer have to suffer. Thanks to chin reduction surgery, you can improve the appearance of your face and make your nose and chin appear better aligned. In some cases, however, facial liposuction may be all you need to make your profile appear smoother and better contoured.
What Does a Chin Reduction Procedure Involve?
If lipo is not the answer, then a chin reduction will work by cutting out some of your jaw bone, therefore actually making your chin smaller. In some cases the bone is reshaped, in others part of the bone is cut off using a bone burr or drill – ouch!
The correct terminology for this procedure is mentoplasty or genioplasty, and the goal is to make your facial features more harmonious, as is the case with chin augmentation. The cosmetic chin surgery operation will take anywhere from two hours on up, with a one–night stay in hospital.
What is the Recovery Period Like?
Don´t expect to look radically better the following day. With this surgery, you may experience some swelling for up to several months as the bone heals. Such bruising, numbness and swelling are all normal after–effects of this operation, so have realistic expectations and don´t be surprised if this is the case. You also may experience numbness but hopefully this will subside fairly soon.
Returning to work within a week is normal, but a softer diet is usually recommended and you should avoid any activities that are too strenuous for several weeks. Even talking and yawning may be difficult at first!
Who is Not a Good Candidate for this Surgery?
Most people are good candidates, although you should be at least age 20 so that your chin has reached its optimal growth. You should also be free of certain diseases and should not smoke, or at least refrain from smoking for at least a month before going under the knife. Similalrly, you cannot use the acne drug Accutane for at least six months prior to surgery. People who adverse reactions to general anaesthesia should consult with their surgeon or GP first.
What Are the Potential Risks Involved?
Like any type of cosmetic facial surgery, you may have some nerve damage, which can result in permanent numbness in the affected area. You may also suffer from a haematoma or infection and you may not be pleased with the results, which may mean a second or even third operation is required. Good luck!
How Much Does Chin Reduction Surgery Cost?
Of course prices vary according to the clinic and what your own specific needs are, but expect to pay anywhere from £1,500 and £4,000.
Decreasing the projection of the chin, getting rid of a double chin and making the chin appear more contoured and streamlined are all goals of a chin reduction operation. If you´re unhappy with the appearance of your chin, this procedure may be for you. Always use a Board certified surgeon and do your homework beforehand, however, and have realistic expectations. No cosmetic operation, or operations, can turn a Jeremy Beadle into a Brad Pitt!
You might also like...
Hi would like to have a consultation about my chin, it sticks out a little as I getting older looks worse. Would like to soften my jawline. As it's getting me down, don't like looking at my face.
Ally
- 24-Oct-20 @ 11:04 PM
i have a long chin and i want to reduce my chin to shorter one..
Want a chin reduction we're the best place I to go been recommended the spire hospital in wilmslow but very expensive wanted to shop around and see we're else do the surgery?
Keisha
- 10-Sep-19 @ 11:20 PM
My chin has always been prominent but with age it has gotten worse.I look like a straight-up witch.I am in my 60's.I am wondering, like one of the commenters above if age is an issue.
Maz
- 13-Aug-19 @ 5:45 PM
I want to get a jaw reduction but don't know where to go or where to search I want a more feminine jaw line can you please contact me thanks
Mel
- 12-Apr-19 @ 7:13 AM
Hi I hate my chin and always have I have a skinny face and my chin sticks out a bit . I just don't want it to stick out anymore. My partner loves me but it's my own self of Steem.Please can you call me meryl
Mezza
- 7-Mar-19 @ 2:52 PM
Hi there I am female, 62, and have a long chin, would love it to be shorter, I also have an overbite so the combination is not good. Is my age an issue? Thanks. Regards Linda
lindason
- 25-Feb-19 @ 4:04 PM
Hi, I am looking into getting jawline surgery to make my jaw smaller. But I am 17, would this be an issue?
Jess
- 21-Jan-19 @ 2:35 AM
Hi, I am interested in jaw feminisation or surgery if someone could contact me for a consultation that would be great.
Shiv
- 20-Oct-18 @ 1:56 PM
Hi Im interested in chin reduction, v line jaw surgery.
Julie
- 19-Apr-18 @ 1:42 PM
I have a huge slim face and feel I need chin or jaw surgery I need a consultation with a suitable surgeon Thanks
Lou
- 5-Jun-17 @ 11:22 PM
I am looking for chin reduction surgery please can you email any useful information you may have on this?
Dai
- 10-Mar-17 @ 12:57 PM
If you could contact me that would be great
John
- 22-Dec-12 @ 12:19 AM
Hi, I am interested in chin surgery as I feel my chin is too long. I am getting married this year and I just want to look my best. I would be grateful if I could have a consultation with a surgeon.
Tami
- 9-Jul-12 @ 7:44 PM