Chin Implant or Augmentation Surgery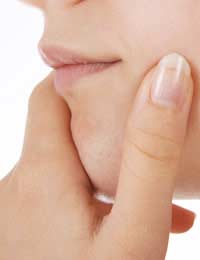 Also known as chin genioplasty or mentoplasty, chin augmentation is a way to strengthen your jawline and bring your chin into better balance with your other facial features. Sometimes it is performed in combination with other plastic surgery, such as a rhinoplasty, or nose job. With some people liposuction is performed at the same time to make the chin appear more contoured.
How is the Surgery Performed?
Once you find the right surgeon, you will discuss at length the look you want to achieve. This may be a long process, but it´s worth it. Along with the surgeon, you will select an implant that is the right size and shape to achieve the results you want.
Most facial cosmetic surgery is performed using a general anaesthetic, and this is no exception. After the anaesthetic is administered, the surgeon will make a tiny incision over the front of your jawbone to create a tiny pocket, much like they do with breast enhancement surgery - only in a different place! This is where he or she will insert the implant. Sometimes something else, such as titanium screws, are inserted as well to keep the implant in place, but this is no always needed.
In some cases the surgeon will decide on an osteotomy, or sliding genioplasty, where they take out all or some of the bone to reform it. If this is required then the surgeon will do this through incisions in your mouth. In either case, the chin will be taped up for at least a week if not longer, and there will be some immediate bruising.
Is There a Difficult Recovery Period?
Believe it or not, recovery from this operation is fairly minimal as it is a relatively painless procedure. You will feel some pain and bruising but with most people this tends to subside within just a few days. Your stitches will probably dissolve on their own but you will need follow-on care to make sure everything is all right.
What are the Potential Risks?
Any type of surgery, particularly one where general anaesthesia is involved, carries potential risks. Risks associated with a chin augmentation include numbness, temporary or permanent nerve damage around the area, and infection. In addition, patients may be displeased with the results - scar tissue forming around the implant, for example, is normal but it can cause asymmetry in rare cases.
Will I Be Left with Visible Scars?
Probably not. If the incision is made through your mouth then nothing will be visible, if it is made on your chin usually this will be hidden in the skin creases underneath it. Usually they will only be apparent if you look very very hard.
How Much Does Chin Surgery Cost?
This procedure can cost roughly around £3000, but obviously the price depends on where you are having it carried out, your specific needs etc.
For people who worry about having weak chins, augmentation of that area can be a godsend for both men and women. A weak chin is not only a sign of age, often it is genetic and only surgery can change its appearance. Just make sure you investigate all possibilities first - in some case liposuction may be all that is needed - and use a Board certified surgeon or one who is a member of the British Association of Aesthetic Plastic Surgeons, or BAAPS.
You might also like...