Rhinoplasty Surgery: Nose Job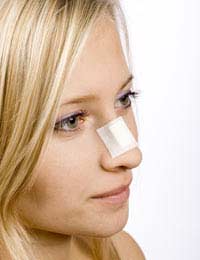 Cher and Natasha Richardson went under the knife and had it done. Now you can too.
Having a nose perceived to be the wrong shape for the face can have an enormous effect on one's self-esteem. Once the domain of the rich and famous only, nose jobs are now becoming one of the most common plastic surgery procedures around. Also known as rhinoplasty, a nose job is a relatively simple operation that can have dramatic effect, giving one back not only a symmetrical and balanced look, as well as increased confidence.
What Is Involved with Nose Surgery?
Also known as nose-reshaping, rhinoplasty is a surgical procedure that can only be carried out by a specialist surgeon. While nose jobs are occasionally performed following trauma or injury to an individual's nose, the vast majority of cases are done for aesthetic purposes only. Noses can be made bigger, smaller, or the shape can be altered dramatically – sometimes just nostril adjustment and a tip correction is needed, an op called, funnily enough, a "rhinotip". Often all types of nose surgeries are combined with other cosmetic procedures, such as a chin augmentation, for maximum aesthetic benefit.
The surgery can be performed under general or local anaesthetic. It begins with small cuts being made inside the nostrils, and on occasion through the skin that separates them. The nose's soft tissue is then separated from from other structures, and bone and cartilage is reshaped. If needed, cartilage from the patient's septum is used, occasionally from the ear, rarely from a rib or chest. The skin on your nose is usually left the way it is, and shrinks over the new shape in time.
What are the Risks of a Nose Job?
Post-operative bleeding and nasal obstruction are the two most common complications, although in some cases a small hole or septal perforation, which can cause breathing difficulties. Finally, the results can be disastrous – your nose can look squashed, caved in or asymmetrical. Usually this can be fixed with subsequent operations.
What is the Recovery Period Like?
Not a lot of fun. Your nose will be stuffy for a while but you won't be allowed to use nasal sprays or decongestants, and you can't blow it for around a week. You may look bruised, swollen and scarred. Your nose may also feel numb, which in some cases is permanent. You'll have to avoid sports for a while and take some time off work. You also may need to wear a splint for a week or so and will have to avoid alcohol and hot baths for a while.
How Much Does a Nose Job Cost?
Going under the knife to alter the shape of your nose costs roughly about £3,000 - and up. You may be able to get this operation on the NHS if any breathing difficulties are present.
People who are unhappy with the size and shape of their nose often want to do something about it. Rhinoplasty can give balance and harmony to one's face, and usually has good results. if you have always dreamt of having a button nose or ditching the bulbous tip of your hooter, you may consider giving rhinoplasty a go. Just make sure you use a Board certified surgeon from the very beginning and remember, our noses grow bigger as we get older. So you might be looking at Nose Job Number Two in a few years!
You might also like...
Hartman - Your Question:
When I was in primary school I was bullied (now 26) I had been punched in the face numerous time but 3 times broke my nose after years of suffering head aches and breathing snoring issues which have got a lot worse as I am getting older I have been referred to see a ENT specialist by my doctors I would like to have my nose made so I can breathe easier and also the bump removed my nose is extremely sensitive to touch and if I knock it a massive nose bleed followed by a headache also my tip of my nose is highly sensitive to even blow my nose!Will I have a strong case to get this done as it effects my day to day life and bring my child up as the headaches start daily someone has to help me
---
Our Response:
We cannot anticipate whether your GP will refer you for further treatment, you would have to speak to your doctor directly.
ExploreCosmeticSurgery
- 14-Dec-17 @ 11:53 AM
When I was in primary school I was bullied (now 26) I had been punched in the face numerous time but 3 times broke my nose after years of suffering head aches and breathing snoring issues which have got a lot worse as I am getting older I have been referred to see a ENT specialist by my doctors I would like to have my nose made so I can breathe easier and also the bump removed my nose is extremely sensitive to touch and if I knock it a massive nose bleed followed by a headache also my tip of my nose is highly sensitive to even blow my nose! Will I have a strong case to get this done as it effects my day to day life and bring my child up as the headaches start daily someone has to help me
Hartman
- 13-Dec-17 @ 12:41 PM