Non-Surgical Procedure: Collagen Injections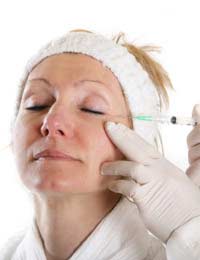 Collagen injections have been given bad press in recent years after several actresses had injections to gain bee-sting smiles and ended up with trout-pouts instead. These days, many dermal fillers made from non-animal sourced products have tended to replace collagen. But some people still rely on this more traditional filler to plump up facial lines or enhance their lips, and give them a more youthful appearance overall.
What is Collagen?
Collagen makes up about a quarter of the body's protein content, and is the main protein of all connective tissue in humans and, indeed, all mammals. Collagen and keratin together are primarily responsible for giving skin its elasticity and strength, and when it starts to fade with age then wrinkles appear.
What Are Collagen Injections?
Collagen injections are used to fill out facial areas that have wrinkles due to age, and to enhance and augment the lips. They are often used to fill out lines in the forehead, crow's feet and mouth. They can be administered along with other non-surgical cosmetic treatments, such as botox injections.
Where Do We Get the Collagen Used in Injections?
Most collagen is derived from the connective tissue of young cattle, although some surgical collagen comes from pigs.
Are There Any Negative Side-Effects?
Some people experience an allergic reaction to collagen injections. When this happens, there can be an extended reddening that is unsightly. However, this risk can be eliminated completely by doing a skin test a month before you have any injections. If you have any reddening, don't have the treatment. Other side-effects can include skin ulcers or infection, an asymmetrical result on the lips, and the dreaded trout pout, made famous in recent years by actress Leslie Ash. Occasionally, people have difficulty breathing or go into shock following the injections, but this is extremely rare.
What Is the Treatment Like?
Your medical practitioner should examine your face and lips before you have any injections. They are quick and cause only minimal discomfort, so most people do not opt for any topical anaesthesia. The are injected may feel tender and swollen for a few days and may also appear overly red, but this should disappear within a day or two.
How Long Do Collagen Injections Last?
Keep in mind that the effects usually do not last longer than 18 months, so to keep up the look you will have to keep coming back for more.
How Much Do Injections Cost?
Injections of collagen are available throughout the UK for a minimum of £250, although of course costs vary depending on the part of the country you live in and the clinic used. often clinics will give discounts if you sign on for a course of treatments.
Cosmetic surgery and plastic surgery have come a long way, but not everyone wants to go to the expense and effort a procedure such as a facelift would entail. Many people opt for non-surgical treatments instead to keep them looking younger and improve their appearance. Injections of aesthetic dermal fillers such as collagen have gained popularity because they are relatively safe, usually have great, albeit temporary, results.
You might also like...