Non-Surgical Procedure: Botox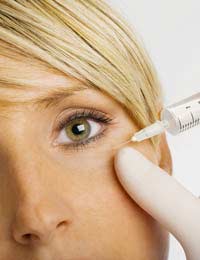 Just 15 years ago, the thought of voluntarily injecting the bacteria that causes food poisoning into one's head would be met with revulsion. But Botox, the trade name for the small quantities of this poison, which paralyzes nerve muscles and therefore stops furrows and wrinkles from appearing, is now widely used for cosmetic reasons worldwide. If you fancy a spot of Botox yourself, read on!
What is Botox?
It's reportedly a favourite of Madonna, Kylie Minogue and Sex and the City's Kim Cattrall. Even Sir Cliff Richard has admitted having it injected into his face. So what exactly is Botox? Put bluntly, Botox is made from something called botulinum toxin, which is a poison made by the bacterium Clostridium botulinum. In larger amounts, the bacteria can result in botulism, which can cause extreme food poisoning. But in smaller quantities, it gives not diarrhoea but delight.
How Does It Work?
Botox works in the cosmetic arena by paralyzing muscles, the ones we use to frown, for example. In properly administered doses, the desired effect is simple: furrows and wrinkles caused by normal facial expression do not appear. When given in larger doses or continuously overused, it can cause the face to show little or no emotion whatsoever. Interestingly, it also has been shown to work to reduce migraines, as there is a correlation between the muscles we use to frown and those types of headaches.
The effects of Botox are evident within three to seven days of an injection being administered. The actual procedure is brief, about ten minutes long, and most people do not require any topical anaesthesia. The results last for up to four months, and you can receive new injections three times a year. Don't overdo it or your will come face to face with your regrets!
What About Sweating?
Botox is also used to treat hyperhidrosis or excessive sweating, the kind that makes armpits and hands unusually sweaty and can therefore cause acute embarrassment. Practitioners who perform this treatment usually dust a person's underarms with powder to see where they sweat the most, then inject the armpits about 12 times with Botox. The injections stop messages being transmitted to the nerves from the sweat glands. So if you ever wondered why actresses on the Red Carpet look so cool, calm and collected (and dry, even in long sleeves), now you know. It's all thanks to Botox.
And Incontinence?
Botox has, remarkably, also been used to treat people who suffer from incontinence, as it stops the bladder from having muscle spasms, thus giving them more control. An initial injection lasts for six months, subsequent ones longer.
Is Botox Safe?
Botox is generally regarded as safe but there can be side-effects. They include pain at the injection site, redness, a temporary eyelid droop, double vision, muscular pain and other usually short-lived symptoms. Women who are pregnant, plan to become pregnant, or are breast-feeding should not have Botox. People with neurological conditions or infections at the treatment site should also avoid it, as well as people who are allergic to any of the ingredients within or who are taking certain medications. Check with your GP to determine if you are a suitable candidate.
How Much Do Botox Injections Cost?
On the whole, Botox injections cost from about £200 up, depending on the area of the country you live in, the clinic you choose etc.
Botox can help give people back the appearance of youth, without having to resort to plastic or cosmetic surgery. It is becoming widely popular as a "lunch-time" treatment, and some people even have Botox parties, where a professional comes and injects all the party-goers. While it may sound like fun, take your health seriously and only have treatments administered by a qualified professional.
You might also like...