Can I Contract CJD from Collagen?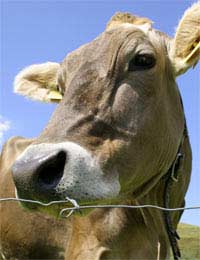 Many types of dermal fillers are on the market today, the majority derived from products not sourced from animals. But many people still rely on injections of collagen, derived from cows, to correct age-related skin alterations, enhance the lips, and minimise scars and tissue deformities, primarily on the face. Because the material comes from a bovine source, there is a worry that it could transmit CJD, a brain disease that is ultimately fatal.
What is CJD?
CJD, or Creutzfeldt-Jakob disease, is a degenerative neurological disorder that is uncurable. All people who get this brain disease, often referred to as "mad cow disease" as most people in the West caught it from eating infected beef products, eventually die from it. Symptoms include dementia leading to quick memory loss and hallucinations, then seizures, changes in movement and coordination and, ultimately, death.
The defective protein which causes CJD can be transmitted through a number of ways. They include human growth hormone products, corneal grafts, electrode implants or heredity. It can also be transmitted through cannibalism (!) and by consuming any type of material made from cows who have BSE, the bovine form of the disease. As collagen is made from the connective tissue of cows, there has been concern that if infected tissue is used, people could catch CJD.
What Are Collagen Injections?
Collagen is the main protein of all connective tissue in humans and all mammals. Together with keratin, collagen is primarily responsible for giving skin strength and elasticity. Wrinkles appear with age when the collagen starts to fade. Collagen injections, along with other dermal fillers, are used to fill out facial areas that have wrinkles due to age, and also to enhance and augment the lips. They are often used to plump up lines in the forehead, crow's feet and mouth.
Where Is the Collagen Derived From?
The majority of collagen used in cosmetic procedures is derived from the connective tissue of young cattle, although some surgical collagen comes from pigs.
Can Collagen Injections Contain CJD?
In 2005 the Government's chief medical officer warned that people could potentially catch variant CJD from what he called "aesthetic" fillers made from bovine products which could carry BSE, the bovine form of CJD. The previous year, a scare in the United States resulted in many products containing collagen being taken off the shelves. But most clinics today claim that their collagen is derived from herds that are BSE-free, and are as safe as eating any British beef. If you are considering any collagen treatment, make sure you use a board-certified practitioner to ensure you get the safest treatment possible.
Aesthetic dermal fillers such as collagen, Perlane and Retylane can be safe if administered by a qualified practitioner and sourced from a reputable supplier. Many people, both men and women, choose them as an alternative to plastic surgery or cosmetic surgery to smooth out fine lines and wrinkles to have a more youthful appearance. If you are interested in any type of dermal filler, make sure the practitioner you visit is fully board certified to ensure you have the safest and best care you can get.
You might also like...