Do Tattoo Removals Really Work?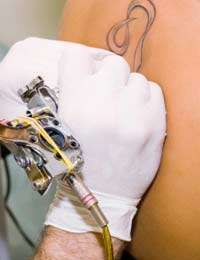 Here's an interesting fact: more and more people are clamouring to get tattoos. Here's another interesting fact: more and more people are desperately trying to get the tattoos they already have scratched onto their skin removed.
Some things may last forever, but a tattoo doesn't have to. It is now possible to have a tattoo removed, and although the results are not always completely perfect, it's much better than having "Kate Forever" on your forearm – when you are now married to Anne.
People have tattoos removed for a variety of reasons; they are no longer members of the gang tattooed on their skin, they believe that having a tattoo will hinder them in their job search, they have grown up and no longer consider a tattoo to be as beautiful as they once did.
Some people, on the other hand, have an allergic reaction to the pigment used, and believe they will suffer less irritation if they get rid of their tattoo.
Origins and History of the Tattoo
A mummified human male dubbed "the Iceman" who dates back to 3300 BC is the first recorded human being who sported a tattoo. The word could have come from the Tahitian word "tattau", which means to mark, recorded by explorer James Cook for the first time way back in the 1700s.
In the UK, tattoos have long been associated with criminals, who got them to show not only gang membership, but also personal memorabilia as well as previous convictions.
These days, tattoos are used not only by sailors and gangs, but also by anyone who wants the world to know their own personal interests and affiliations.
It is estimated that anywhere from eight to 15 per cent of the population currently sports a tattoo, with the number of people who regret having them slightly down year after year.
A poll in the US cited the following reasons for regretting having had a tattoo: too young when had it; it has faded; don't like it anymore; picked the wrong design; personality is now different, and too hard to cover up with clothes.
Types of Tattoo Removal
There are several primary types of tattoo removal, each with their own pros and cons. Among them are:
Dermabrasion. Not for the squeamish. This method involves actually sanding away the tattoo with a small device called a dermatome. Permanent scarring is likely as the ink can go deep, meaning that the sanding will go deep as well. There might also be uncomfortable itching and swelling, along with associated redness, for about six months after dermabrasion.
Surgical Excision. For some tattoos, this is the best – and the most basic – method. Surgical excision involves cutting out the tattoo, then sewing the two sides of the skin back together. As expected, there will be some scarring, so factors such as where the tattoo is located, its size and ink colour are important to take into consideration when deciding whether this is really the best option for you. Have a skilled surgeon look at your tattoo before making any decision.
Intense Pulsed Light (IPL) Therapy. All skin types can be treated, and when done properly, IPL is particularly kind to skin. The energy is absorbed, then converted to heat to destroy the tattoo without affecting the surrounding skin. If the tattoo has multiple colours, more and more treatments may be necessary. Only use an experienced therapist when having IPL, as an unqualified or novice one could burn you. And be aware that green and yellow inks may take the longest to fade completely using this method.
Laser Removal. This is now considered the best type of tattoo removal for most tattoos, as the end result is usually the best. It works by targeting the ink used in the tattoo and breaking it up, where it then naturally disperses. Multiple treatments will be necessary for best effect: how many will depend on the type and size of tattoo, and the ink used. Expensive and painful, the laser method of tattoo removal also has a high risk of scarring, so make sure you use only a qualified expert. Works best with blue and black ink.
Tattoo removal can be a costly and sometimes painful process that is not without some health risks or potential for permanent scarring. But for people who would give anything to get rid of their tattoos, it can be worth the effort.
If you are considering any method of tattoo removal, make sure you use only a qualified surgeon, dermatologist or other medical professional. Never try to remove a tattoo yourself, and don't pay money for expensive lotions and potions that claim to be able to make tattoos fade away. The only thing you'll see disappear will be money from your wallet!
You might also like...