What is a Liquid Facelift?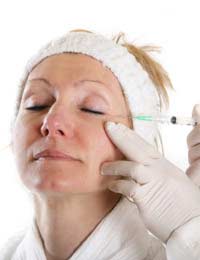 Many of us are tired of looking older, and want to have a younger, fresher-faced visage without going under the knife. If you are scared of surgery and the potential scars and complications, take heart: the liquid facelift might be for you.
Known as one of the most popular non-surgical alternatives to plastic surgery, the liquid facelift involves injecting dermal fillers into the face to plump it up and replace volume loss due to gravity and age. While the results might not be exactly what a surgical facelift can offer, they nonetheless can be quite dramatic.
Little Downtime
One reason a liquid facelift is so attractive is because there is little or no downtime involved. A surgical facelift can involve an overnight stay in hospital, and often general anaesthesia. Following surgery, it may be several weeks before you can resume your normal life. With a liquid facelift, the results are immediate and there is virtually no recovery period involved.
Liquid facelifts also leave no scarring, they are cheaper than surgery, and the risks are minimal. Obviously, however, results are temporary, sometimes lasting up to a few months only depending on filler, and if there is excess skin, this is not addressed. So while it is not a perfect solution for everyone, it is for some.
Types of Fillers Used
The fillers used in a liquid facelift depend on what needs to be corrected, and sometimes a surgeon will choose to layer different fillers to create the desired effect.
The fillers are typically made from both synthetic and natural ingredients, and while some are hyaluronic-acid based, others are derived from bovine collagen, which means you'll need an allergy test first. Some even come from cockerel combs!
The dermal filler you will have will depend on your own particular needs. They typically can be:
Juvederm. Can reduce the appearance of mild to moderate folds in the skin, and is also good for getting rid of fine lines. Also helps in the marionette area.
Restylane. Good to reduce the appearance of wrinkles and also as a lip enhancement.
Radiesse. Great for cheek augmentation, and also for moderate to deeper skin folds. It can actually stimulate the body's own production of collagen, and help reduce marionette lines.
Perlane. Good to shape facial contours such as cheeks, and as a method to correct deep folds in the skin.
Botox. Good to get rid of facial wrinkles, especially in the forehead, and some people use it to get rid of crow's feet, although this is not recommended for every patient.
Fat transfer. Sometimes fat is taken from other parts of the body then re-injected where needed, to plump up areas where they need it the most.
Is It Worth It?
If you do not have adequate recovery time at hand or the money needed for a full surgical facelift, a liquid facelift might do the trick. While the procedure is much less risky than a full surgical facelift, you will still need to ensure that you visit only an accredited clinic or hospital, and that the person treating you is board-certified.
Liquid facelifts do not work for everyone, as they only make up for lost volume. If you have a turkey neck or a lot of excess skin in the jowl areas, for example, a liquid facelift will not make much of an improvement.
Keep in mind that in rare cases, people have had allergic reactions to some dermal fillers, or they has something injected into their face which wasn't actually a dermal filler at all. So be careful even when you have a non-invasive procedure such as this – or you may end up being very sorry indeed.
You might also like...