Birthmarks and Removal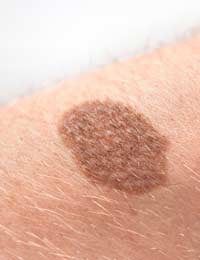 While virtually everyone is born with at least some type of small birthmark, many of these disappear quickly. Those that stay, however, can vary greatly in size and shape, as well as in their potential to turn into a significant health hazard.
Some people choose to have birthmarks removed, which is often an easy process. Birthmark removal is considered usually when the birthmark is deemed unsightly, or because a medical professional has advised that it be taken off.
If you are considering having a birthmark removed, it's important to know exactly what type of birthmark it is, whether it does or will pose a health danger, and whether it will get bigger if left untreated.
You will also want to know how effective the removal procedure will be, as having a tiny, benign birthmark in an unobtrusive place may be preferable to having a large scar.
Types of Birthmarks
Generally, four types of birthmarks are the most common. They are:
Pigmentation birthmark. Light brown patches of skin or congenital moles fall under the category of pigmentation birthmarks, as well as "Mongolian patches", which are bluish marks in babies of African or Asian descent which will disappear within just a few weeks. Moles may affect your child's self-esteem as he or she gets older, and you will have to keep on eye on them to make sure they don't turn cancerous.
Vascular birthmark. Also known by their colloquial moniker of port wine stain, these are the most common type of birthmark. They are present at birth and instead of fading over time, they tend to become darker and sometimes more lumpy.
Haemangioma (also vascular). Caused when tiny blood vessels bunch together soon after birth, they can grow quickly, especially in the first nine months of a child's life. Usually they are found in the head and neck area, but not always. In some cases, a haemangioma can grow, initially undetected, on a baby's internal organs, and eventually be apparent on the skin. Consult your doctor if your child has a haemangioma. In some cases, large strawberry haemangiomas can have a detrimental effect on a baby's breathing, and will need to be removed. Strawberry marks on eyelids will need to be removed not long after birth, or they can interfere with a newborn's sight.
Macular birthmark. Thin, light patches will be present either on the baby's neck or upper eyelids. They often disappear on the eyelids over time, while the macular birthmarks on the neck will not fade away.
Laser Treatment
Many birthmarks fade away over time, and some disappear completely. Your doctor may advise you to do nothing with your child's birthmark, and to wait and see if it goes away by itself.
If it doesn't – or if you have adult birthmarks you want to remove - then the best option is probably laser treatment, although every birthmark needs to be looked at individually.
Lasers and Intense Pulsed Light therapy are two of the most common ways to get rid of birthmarks, or to make them fade noticeably. The lasers emit a light which heats blood vessels underneath the skin. The heat then causes those vessels to shrink, and therefore to fade away.
Usually a series of sessions will be required – from four to six – to make the best difference. The treatment is virtually painless and the effect is almost immediate.
Other Birthmark Removal Treatments
Two other treatments are also available for birthmark removal, which are:
Sclerosing agents. Special solutions are injected into the skin, which irritate the blood vessels and cause them to shrink. This is most commonly a procedure used to get rid of varicose veins, but it works for some types of birthmarks as well.
Surgical excision. In some case, birthmarks can be removed surgically by simply cutting them away. This is usually done in severe cases, such as when a haemangioma is located on an internal organ, and when other methods of birthmark removal have not been successful.
Camouflage Make-up
For some people who don't want or need medical intervention to remove a birthmark, the other option is skin camouflage make-up. This special type of make-up is designed precisely to cover up birthmarks, and can hide tell-tale signs to make your child – or yourself – feel more comfortable.
Camouflage make-up works better than regular concealer, as it will be designed to match the exact skin colour of the person who needs it. For that reason, it's best to contact a special practitioner to get the exact colour tone.
Birthmarks are often but not always harmless, although sometimes they are unsightly and can have a detrimental effect on an individual's self-esteem. Luckily, treatments are available to make birthmarks either disappear completely, or fade away until hardly visible.
You might also like...