Non- Surgical Procedure: Laser Hair Removal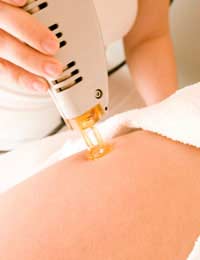 For decades, women have spent countless hours plucking, waxing, tweezing and shaving in a quest to get rid of unwanted hair on their legs, underarms, bikini line, arms, face and chest. Now, a new technique promises to deliver a permanent solution to this weekly or even daily cosmetic grind: the laser. But what exactly is laser hair removal, and does it really work?
What Is Laser Hair Removal?
This technique for getting rid of unwanted hair only became widely available in the mid 1990s. The way it works is relatively simple: lasers can cause damage by heating specific targets, or a dark matter called melanin. In this case, melanin is present in the follicle, which causes hair growth. A handheld laser, therefore, will target the follicle and damage it, but not the surrounding skin. The result: no more hair growing in that specific area. Lasers can only target dark eumelanin, responsible for producing brown or black hair, and not pheomelanin, which produces hair that is blonde or red. That means only dark hair can be removed by a laser.
How Safe Is It?
Laser hair removal is generally considered very safe, although the skill of the practitioner is key. Occasionally people are left with white spots, acne flare-ups, burning or skin discolouration following a treatment or course of treatments.
How Many Treatments Will I Need?
The number of treatments needed is often between three and eight, although that would depend on the amount of hair you have, and the coarseness of the hair. Hair also grows in stages, so you may need additional treatments to target them all. It also, unfortunately, can depend on the skill of the person wielding the laser. Make sure you have someone who is board certified, and ask your GP for a recommendation.
What Are the Treatments Like?
Not a lot of fun, but tolerable. A gel or spray will most likely be applied to the area, then you'll feel a slight sting as the laser does it magic. You may be asked to wear goggles during the treatment. You will probably be a bit red and sore afterwards, but this feeling should disappear within a day or so. Don't have treatment if you have any infection in the area or are taking certain medicines. Ask you GP or a qualified practitioner or beauty therapist for advice before embarking on this course of non-surgical treatment. The British Association of Aesthetic Plastic Surgeons (BAAPS) can provide additional information, and point you to the right person.
Does Laser Hair Removal Really Work?
In the vast majority of cases yes, although a very small number of people appear to be non-responsive to lasers. While the hair may not disappear completely, laser removal will definitely reduce growth to a significant degree. Please note that electrolysis, where one hair at a time is heated, may be better for small areas like eyebrows where exact precision is needed.
How Much Does Laser Hair Removal Cost?
Costs vary, but expect to pay at least £50 for a small area, more for larger ones.
Laser hair removal can be a safe and effective way for getting rid of unwanted hair, both for men and women. While the treatments may be prolonged, they are not unduly painful and usually show very good results. They may be a lasting solution to a very hairy problem!
You might also like...