Non-Surgical Procedure: Restylane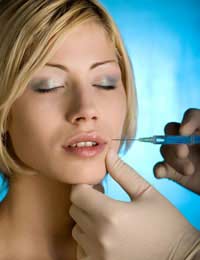 Most of us want to look younger, but many of us are put off by the risks involved in having certain cosmetic or plastic procedures carried out. That's why Restylane, a dermal filler that is made from products not sourced from animals, is one of the most popular treatments currently being carried out in the UK and abroad. Injected into the face, Restylane works by smoothing out fine lines and wrinkles almost instantly with virtually no risk of an allergic or adverse reaction. And it's a lot cheaper than paying for a facelift!
What Is Restylane?
Restylane is widely regarded as one of the safest dermal fillers which people use to add volume and plumpness to their skin, and thus make them look younger. Made in Sweden, Restylane is the brand name for this injectable gel, which makes the skin appear fuller and softer. Unlike many other fillers, the fact that it is not made from animal products means it is safe for people who have allergies to things such as eggs and chickens, and that there is also no risk of transmitting any animal-borne disease.
How Does Restylane Work?
Skin is rich in hyaluronic acid, which is naturally present as a sugar found in the skin's connective tissue, and which helps to keep moisture in. However, as we get older, generally past the age of 25, we tend to lose some of that acid. The resulting lack of moisture is what makes our skin appear to have aged. Restylane is able to enhance the amount of hyaluronic acid which is still present in the skin, so that it appears fuller and younger.
What Is Restylane Used For?
Restylane is one of the most common fillers used to enhance lips, but is used elsewhere in the face as well. It can be injected around the nose, on the forehead and where there is the appearance of crow's feet. It can also be used around and under the eye area. If you injected your own hyaluronic acid into the skin it would break down in a few days, but the effects of Restylane usually last from six to nine months.
What Is the Procedure Like?
A course of Restylane usually takes about half an hour, and for most people the pain is minimal, as a topical anaesthetic is usually used. It should be administered only by a fully qualified practitioner, either at a special spa or doctor's office. Some people may feel some swelling and bruising for a few days, but the positive effects can often be seen instantly.
Be aware, however, that the effect of Restylane is not a permanent one. If you want it to continue, you will have to continue having injections. Technology is currently underway to use Restylane to improve the skin's elasticity instead of as a filler, with results lasting as long as two years.
There have also been cases of women having Restylane's cousin, Macrolane, injected into their breasts to make them look plumper. Made by the same company, Q-Med, Macrolane is reportedly being touted as a hot new breast filler in Japan, and is quickly making itself known in the UK as well. Don't try this at home...
Is Restylane Expensive?
A normal session costs around £200, depending on the area of the country you live in, but can rise to £400 or more depending on the exact treatment you have carried out.
What Are the Risks of Restylane?
Restylane is one of the safest fillers available on the market today, but people who try it often experience temporary redness and bruising, and perhaps lumpiness. This goes away quickly. Pregnant women should avoid having the treatment altogether.
If you want to look younger without visiting a plastic surgeon, Restylane could be for you. It is one of the safest non-surgical cosmetic procedures around, if it is carried out by a qualified professional. Make sure you find the right person to give you the injections, and don't use someone who is not qualified because they offer cheaper treatments. When done correctly, the majority of people, both men and women, are very pleased by the results.
You might also like...