What is Thread Vein Removal?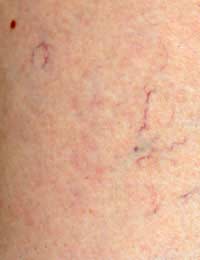 We all want to appear fresh-faced, which is why the appearance of tiny, red thread veins on the skin can cause anxiety and distress. Although broken thread veins are common with age, few people realise that there are non-surgical treatments to get rid of them quickly and easily, usually with good results. These procedures can help to get rid of broken veins and capillaries not only on the face, which is the most common place to have them, but also on other affected parts of the body, such as the knees and ankles.
Both men and women suffer from thread veins although they are more common amongst women, perhaps due to the prevalence of the hormone oestrogen. Interestingly, some people often get them in areas where they have had insect bites! Whatever the reason, if they cause cosmetic distress, getting rid of them may appeal, although they usually cause no real physical harm. Please check beforehand with your GP, however, to make they are not indicative of any underlying vascular condition.
What Are Thread Veins?
Thread veins are caused by a variety of different factors, including trauma, age, too much exposure to the sun, use of oral contraceptives, hormone therapy, pregnancy and excessive alcohol consumption. Known also as spider veins or telangiectasia, they are simply enlarged blood vessels, but as they typically appear on the face and legs they can cause acute distress. Millions of people, both men and women, are affected by them, and several treatments are available to get rid of them.
How Can Thread Veins Be Removed?
A variety of very different techniques are available, so consult with your GP or a qualified professional at a specialised clinic to discuss which one is right for you. Please note that on occasion, thread veins on the legs are connected to varicose veins, which is why an ultrasound is necessary to be carried out before any removal treatment. If this is not done, then the varicose veins underneath may come back quickly. The cost differs from treatment to treatment and clinic to clinic, but expect to pay a minimum of £150 on up. Main treatments include:
Injections: Also known as microsclerotherapy, this treatment involves injecting the veins with a fluid which sticks the vein walls together, to prevent their recurrence by not allowing blood to the area. Over a period of weeks or months the thread veins eventually are absorbed into the body and disappear. This method is usually but not always successful, and several sessions may be necessary. It is usually considered better for the legs, but not for other delicate areas such as ankles and the face.
Laser Treatment: Generally considered the most effective form of treatment, this technique works by delivering energy to the affected vessels, which then clog up. When they do, they are eventually absorbed by the body and disappear. The treatment can last for up to one hour, depending on the number of vessels affected, and most people say the pain felt is equivalent to that of an elastic band snapping on their skin. This laser treatment can be highly effective but following it patients need to avoid sun exposure and always apply suncream of a sufficiently high factor.
Veinwave: A thermo-coagulation technique, it destroys thread veins by heating them, using relatively new microwave technology. The procedure involves a fine needle being introduced over the vein, making it appear almost instantly. It's relatively painless and can be used on face or legs, and one treatment usually lasts about 15 minutes. There may be a risk of scars.
PhotoDerm: Only for the face, this technique involves high-intensity light therapy, which pulses on the affected areas, eventually making the veins fade away. Reddening of the face may occur short-term, and several sessions may be necessary for maximum effect. It can also be used to treat port wine stains and rosacea.
Getting rid of thread veins can be a simple process, if done correctly. However, legislation is underway to deregulate the industry, especially as far as any form of light therapy is concerned, so be advised to check that your practitioner is a qualified, licenced professional before embarking on any form of treatment. Good luck!
You might also like...
I have thread veins on my legs, some on my lower legs and some on my thighs. Although they're not that obvious they really annoy me so I was very interested to read in this article that you could have them removed without surgery. I think the laser treatment sounds like a good option so I'm going to look into that. If anyone else has had the treatment I would be interested to know what you though about the results.
Jean
- 17-May-12 @ 9:31 PM