Cosmetic Surgery for Feet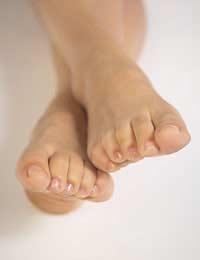 Few people believe that feet are the most beautiful part of the human body, but for those who want to improve their appearance, a new type of medical intervention is now available: cosmetic surgery for feet.
In fact, new findings suggest that cosmetic foot surgery may be the latest craze for people who want to look good through surgical means, with more and more people opting for various procedures ranging from ankle liposuction to toe tucks and collagen injections in the balls of their feet.
Remember, the goal of these procedures is not to have feet that perform better. No, the goal is to have feet that look better – especially when dressed up in expensive footwear.
Aesthetic Bunion Correction
Bunion correction is often seen as being medically necessary, as a bunion can be extremely painful. Some people, however, have painless bunions, so choose to have aesthetic bunion correction surgery for one reason and one reason only: to make their feet look nicer.
Most bunions are caused due to an inflammation in the big toe, which can come from wearing shoes that are too tight or too small. Different types of surgery are available depending on the type of bunion, and it's estimated that about 80 per cent of bunions can be corrected quickly and painlessly.
Toe Tucks
There is an old saying that states that people whose second toe is longer than their big toe descended from peasants. People who want to deny their own peasant ancestry – or look fabulous in their £450 Manolo Blahniks – now have the option of making their toes shorter, or their overall foot smaller.
A toe tuck is a relatively simple procedure, involving a shortening of the toe accomplished, in part, by removal of the small joint. It's estimated that it takes only about 15 minutes per toe. A pinky toe tuck slims down the offending toe, so that it will look more aesthetically pleasing in an open-toed shoe.
Ankle Liposuction
Many women resist wearing anything that will show off their legs due to fears of having fat ankles. They can now put their fears to rest with ankle liposuction, which concentrates on part of the body that traditionally is resistant to diet and exercise.
Ankle liposuction depends on the use of a micro-cannula, because the area is so small. Using one is more costly than other types of liposuction and the recovery period is longer, but most women are satisfied with the result.
Collagen Injections
Ever wonder how some women manage to dance the night away in very high heels, seemingly without a care in the world? The answer may lie in collagen or restylane injections in the feet, which plump up the ball of the foot and therefore makes it easier to wear heels for a long period of time.
Collagen and restylane injections do the same thing they do for the face: they plump it up. Some surgeons, however, are saying that only surgery can really work to correct the misalignment of the bones in the foot, which can come from walking too much in heels or on concrete.
In the past, some surgeons plumped up feet by injecting patients with fat harvested from other parts of their body. But collagen and restylane injections seem to have the same effect, and are much easier to administer and significantly cheaper.
Brachymetatarsia
A shortened long bone of the foot makes one toe look like it is literally disappearing into the main body of the foot. This condition may not appear from birth, but can become a problem usually between the ages of five and 15. While it often causes no physical problems, it can be embarrassing, especially for adolescents.
A new type of cosmetic foot surgery can help correct the problem, by lengthening the toe in question during a surgical procedure that can last up to three hours. In the past, traditional brachymetatarsia surgery took place over a period of months, during which the toe was gradually lengthened using a special device.
Restorative Foot Surgery
Pioneered in the United States, this surgery is for people who have already had medically necessary surgeries on their feet, but were sadly left with unsightly scars.
The surgeon redoes part of the surgery, managing to conceal the scars so they will not be visible. This is especially effective when it comes to bunion surgery, where often large scars are visible on the top of the feet afterwards.
Many of us want beautiful feet, and some women are willing to go to extreme lengths to get the feet of their dreams. If that doesn't appeal to you, perhaps a long soak in the tub followed by a nice pedicure will instead.
You might also like...
I would like to have a consultation to correct Brachymetatarsia.
Chrys
- 4-May-19 @ 11:46 AM
Hi there, I have a brachymetatarsia on my left foot and would like some information about where I can get it fixed, the procedure of the surgery and how much it would cost me. I live in Edmonton, AB, Canada. Thank you,
Denait
- 10-May-17 @ 7:21 PM
Hi I too suffer from brachymetatarsia in both feet!! Such an embarrassment! I feel a sense of depression and low self esteem when it come to my feet, I just want them fixed!! Is there any information you can give me, or at least point me in the right direction publicly or privately??
Jazz
- 10-Apr-17 @ 8:17 AM
Hi there can you please give me info on brachymetatarsia surgery in the U.K please preferably in West Yorkshire region along with costs Many thanks
Nighat
- 12-Feb-17 @ 12:01 AM
Hi. With summer here, the agony of finding sandals turns into a torture.I suffer from bracymetatarsia on both feet. The shame! Are there any MDs that specialize in fixing this in the Atlanta area or anywhere in GA?
Short toes
- 27-May-15 @ 9:21 PM
@ranj - I'm afraid we cannot recommend individual surgeries, if you are not entitled to have this done on the NHS and wish to go private, you would have to conduct and online search for a reputable surgeon.
ExploreCosmeticSurgery
- 30-Mar-15 @ 11:06 AM
HHi, I suffer from Brachymetatarsia on one foot and would like advise on where to have this fixed in a one day surgery procedure in the uk
ranj
- 27-Mar-15 @ 1:31 PM
@Hollieg - you should contact your GP who will be able to refer you to a consultant for further treatment.If you want to go privately for the treatment you will have to do a search online. I hope this helps.
ExploreCosmeticSurgery
- 18-Feb-15 @ 1:49 PM
Hi, I suffer from Brachymetatarsia on one foot and would like advise on where to have this fixed in a one day surgery procedure in the uk. Thanks Hollie 07967168283
Hollieg
- 16-Feb-15 @ 8:22 PM