What is Calf Augmentation?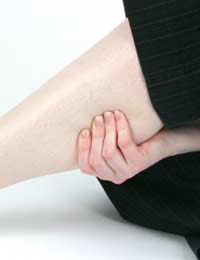 Tired of working out in the gym for months, but not seeing any improvement in your calves? Well, there's no longer any need to suffer if you have skinny little chicken legs. Calf implants are now the rage amongst both men and women interested in making their lower legs appear a bit more substantial and more shapely. This plastic surgery can be carried out on one leg or both, resulting in a more shapely appearance of your pins and allowing you to wear shorts and/or mini-skirts with confidence.
What are Calf Implants?
A calf implant, or calf augmentation, is cosmetic surgery to change the shape of the calf, especially if it is perceived as being out of proportion with the rest of the leg or the upper body as a whole. A surgeon makes a small cut in the back of the knee, then inserts silicone implants. They are put in pockets which overly existing muscles, and held in place by either the muscles themselves or stitches. An overnight stay in a hospital or clinic is required, as the procedure is usually carried out using general anaesthesia, although sometimes a local anaesthetic is used.
The success of the implants in part rests on the surgeon, and you should only use one accredited with the British Association of Aesthetic Plastic Surgeons (BAAPS). He or she can determine the size of the implant to be used, and in some cases can even create one designed just for you. When done properly, they should feel to the touch like a well-developed calf muscle and not be too hard or too soft. To outsiders, the effect is completely realistic.
What are the Potential Complications?
The main risks are those associated with any surgery, especially one where general anaesthesia is used. They include infection, bleeding, increased swelling etc. In some cases the implants rupture and have to be removed and reinserted. People who do not rest for the prescribed time after the op and follow the doctor's orders to the letter risk increased swelling, bleeding and bruising, as well as infection. Swelling, pain and discomfort should last only about two weeks, and although there will be a small scar it should fade in time.
What is the Recovery Period Like?
Pain is to be expected, which is often worse in men than in women. Your surgeon should prescribe painkillers. You should be able to be up and walking around within about a week, and should keep your legs elevated for as long as possible. Avoid strenuous activity, such as going to the gym, for about six weeks, depending on your surgeon's recommendations. You should have follow-up visits to the clinic to make sure everything is healing correctly.
How Much Does Calf Implant Surgery Cost?
The price of this cosmetic surgery varies from clinic to clinic, but expect to pay at least £2,500 - and up.
Calf augmentation is rapidly gaining popularity, not only to correct physical or congenital defects but to help people have legs that are more muscular, shapely and more in proportion with their thighs and the rest of their upper body. Even body builders admit that gaining musculature in the calf is close to impossible, so calf implants may give you the lift you need to feel better about yourself. But be prepared for pain and a protracted recovery period, so think hard and long about whether the discomfort and expense is really worth it before you jump in.
You might also like...
Hi there, i have skinny legs and im not confident to wear any things if it show my legs "which is my calf"and i have been seaching on goole and it's show me alot of diffend places in UK but im not sure where is self to do and who could help me to do the Calf impant surgery best. Please let me know the address and phone to make apoiment. Thanks
Hi I would like a consultation for calf augumentaton and liposculture. any finance available?
Rehy
- 27-Jan-16 @ 9:22 PM
I have skinny legs .I am looking for surgery
alganesh
- 13-Nov-15 @ 5:35 PM