What are Jaw Implants?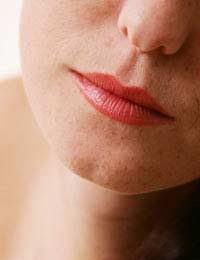 Everyone thinks men with defined jaws are more handsome, and having a weak jaw is often seen as a personality deficit in both men and women. Perhaps that's why cosmetic surgeons offer a procedure called mandibular augmentation, or jaw implants, to give weak-jawed people stronger chins. If it works for some, it could work for you...
What is Jaw Augmentation?
This operation usually takes about two hours, and is done under general anaesthetic. Incisions are made on both sides of the lips to create tiny pockets where the implants, made usually of silicone or sometimes elastomer, are placed. The incisions are then stitched up using dissolvable stitches. With chin surgery the results are the same but the implant is placed in the chin.
Who is a Candidate for Jaw Augmentation?
As with any cosmetic surgery, you must be in relative good health to have this operation. People who have been taking the acne drug Accutane within the last six months will have to wait as it can cause keloid scarring and/or excessive bone growth. You must have no bone disorders and have realistic expectations of the results to avoid disappointment (and avoid suing your surgeon!).
Only use a surgeon qualified by the British Association of Aesthetic Plastic Surgeons (BAAPS) and be sure to discuss the entire procedure in detail, as well as any concerns you may have, before the operation. If you do not feel comfortable talking openly with your surgeon, find another one.
What About the Recovery Period?
It's not a lot of fun, although the pain is minimal, compared to some other cosmetic procedures. Your face will swell for about 48 hours, which is normal. Some swelling could persist, so you may not know the final results of the op until several months afterwards. You will need to restrict both your diet and activities for a few days or weeks, and your dental hygiene routine will also be affected.
What Risks are Involved?
People can develop post-operative infections and need to have the implants removed, then wait several months before they are reinserted. Like any operation you could develop a haematoma (bleeding under the skin) or seroma (fluid build-up under the skin). You could end up with an asymmetric jaw which will need to be corrected, and a loss of sensation in the area for an extended period of time, although this usually corrects itself (but not always).
Silicone implants also carry their own specific risks, which you may want to investigate before taking this step. Some people opt to have implants made from their own body tissue, but while silicone implants are permanent, human ones will have to be replaced over time.
How Realistic are the Results?
Very, if everything goes smoothly. In fact, some people opt to have additional facial surgery at the same time, including malarplasty (cheek augmentation, mentoplasty (chin augmentation) and even a nose job to bring the ideal balance to their face.
How Much Does a Jaw Augmentation Cost?
On the whole, this type of surgery costs from £4,000, but every person has his or her own requirements, to it's important to shop around for both the best surgeon and the best price (in that order).
The goal of having a jaw augmentation is to make a weak chin appear significantly stronger, thus giving more definition to the jaw line. Men with strongly defined jaws in particular are perceived as having stronger personalities. But remember that plastic surgery alone cannot change your personality or attitude towards life, that's up to you!
You might also like...
Hello, how much would jaw and cheek augmentation cost as an estimate?
Adam
- 12-Sep-18 @ 9:19 AM
Interested in chin and jawline augmentation
Amir
- 18-Nov-17 @ 10:16 PM
I would like to have jaw line implants.
I am interested in having Jaw implants done.
dan
- 16-Jan-17 @ 12:17 AM
I would like to have jaw implants.
Sanaz
- 21-Aug-14 @ 9:52 PM