What is Thigh Lift Surgery?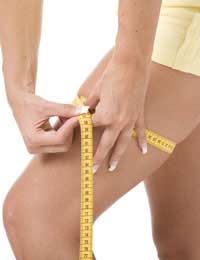 Thunder thighs could soon be a thing of the past. If you have tried for years to get rid of flabby thighs and nothing seems to work, take hope. A thigh lift, or thighplasty, is a surgical procedure that removes skin and sometimes fat from the inner thigh, making it appear tightened and tautened. This type of plastic surgery is popular amongst women - and men - who have lost firmness due to age or following significant weight loss, allowing them to wear shorts and swimsuits again and gain back lost self-confidence.
What Does a Thigh Lift Entail?
Loose or sagging skin can be a growing problem as we get older, especially on the face, upper arms and thighs. With a thighplasty, extra skin is cut away to make the thigh appear tightened and give the body a more smoother, contoured appearance. This is done through an incision on the inside of the thigh, in some cases from the knee all the way to the groin area. If an extra lift is needed, the cut carries on along the fold of the buttocks.
The excess skin is then cut away, while occasionally liposuction sucks out excess fat. Be aware that while your body's contour will look more shapely when dressed, scars will remain visible in revealing clothing, unless the incisions are high on the inner thigh or near the buttocks. Discuss this with your surgeon beforehand.
What is the Recovery Period Like?
Obviously, this cosmetic surgery is done under general anaesthesia and at least an overnight hospital stay is mandatory for most people. Expect to experience bruising and swelling for at least a few days, as well as a feeling of tightness in the thigh area. Support garments will need to be worn for a few weeks and you shouldn't participate in any strenuous activity for at least one month. Post-operative visits are essential, and don't expect to go back to work for three weeks. Be aware that it usually takes about six months to recover fully from this op, while scars may taken even longer to heal.
What Could Go Wrong?
Any major surgery done under general anaesthesia has risks, so make sure your surgeon is a member of the British Association of Aesthetic Plastic Surgeons (BAAPS). The most common complications are infection and necrosis, when some of the skin dies. You could also get a blood clot underneath the skin, known as a haematoma, or a seroma, or fluid build-up, which may require another operation to get rid of. Other problems are loss of sensation in the area and unsightly scars that don't fade. Still, the majority of people are pleased with the results of this operation.
Can Anyone Have a Thigh Lift?
People who smoke, are very overweight, have persistent medical problems or are prone to keloid scars may not be good candidates for this procedure. Obviously, if you are pregnant or breastfeeding you should wait. Consult with your surgeon beforehand.
How Much Does a Thigh Lift Cost?
Expect to pay at least £3,800 - £5,500 in the UK, depending where you live, although prices vary.
Thigh lifts became available in the 1960s in France and Brazil, along with other procedures such as arm lifts and abdominoplasty (tummy tucks). Techniques have greatly improved since then, and today a thighplasty is not as uncommon as it once was, and has much better results. However, it is imperative to consult with your surgeon to determine whether liposuction alone is all you really need, which leaves virtually no scars and is considerably cheaper. Also, ask your surgeon to write to your GP and with details of the procedure so your doctor can help with any problems following the surgery.
You might also like...