Can Liposuction be Used to Remove Cellulite?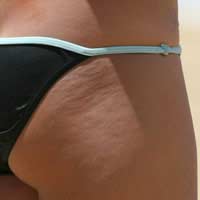 The vast majority of women, even those who are a perfect weight for their frames, have cellulite. It is a completely harmless and normal condition that for some reason we usually find deeply unpleasant to look at. Hundreds of lotions and potions are on the market to get rid of cellulite, as well as a vast array of differing cosmetic cellulite treatments and surgeries, among them liposuction. But does it really work?
What is Cellulite?
Often referred to as "orange peel" skin, cellulite is just plain old fat. In fat there is fibrous connective tissue, and when it presses against the skin it cause it to dimple and almost bulge. It is much more common in women as men have different distribution of fat, plus their connective tissue is a bit stronger and their skin is largely thicker. Women also get cellulite from aging: there is a greater accumulation of fat in the body as we get older and expend less energy, and the skin that surrounds or encases it begins to sift, sag and wrinkle.
In the UK and USA, the majority of medical professionals believer we can get rid of the bulk of our cellulite by eating a healthy, high-fibre diet, drinking loads of water and partaking in strenuous exercise. In parts of Europe, however, it is believed that cellulite is a medical condition which can be reduced by mesotherapy, or injecting drugs into the skin to stop the fat cells from hardening. Another method is massage, yet another is liposuction.
What is Liposuction?
Liposuction, also known as lipoplasty, is a type of plastic surgery that removes areas of fat from the body, traditionally from the hips, thighs, tummy etc. It works as a narrow metal tube, or cannula, is inserted, using general or local anaesthesia. The cannula is attached to a vacuum pump which sucks the fat out. Humans don't create more body fat cells in our body after age 15, but existing ones can get larger and larger. So in theory, if you keep to a good weight, the effects of lipo for fat reduction can be long-lasting.
How Can It Get Rid of Cellulite?
Believe it or not, the texture of fat is almost liquid. When fat is removed, the skin naturally tightens around the area, making it appear smoother. Liposuction can work by disconnecting fat from the connective tissue underneath the skin, but results can be mixed. It works a lot better with people under the age of 50, while in older people it can actually cause the skin to dimple more. The results are mixed and unfortunately you won't know with 100 percent accuracy if it's a good procedure for you until you try it.
What about Liponic Sculpturing?
This technique differs from liposuction in that it is non-surgical and works more like a massage to break down the cellulite in the body and get rid of it. It uses a machine that has rollers and vibrators which are placed on the skin to roll and suck away cellulite. Sometimes the machine is used in tandem with actual liposuction to get the best results. At least five sessions are required to see any results whatsoever and you may need as many as 20 for maximum benefit, so this can be a long-term investment.
Liposuction for cellulite removal can have varied results, and even renowned plastic surgeons are in debate over whether it really is a valid treatment for this condition. If you are considering liposuction yourself, always use a surgeon who is certified by the British Association of Aesthetic Plastic Surgeons (BAAPS), and have realistic expectations. Even if you do see a result, remember that the result can only be maintained by keeping up a healthy diet and exercise. It's all down to you!
You might also like...