What is Laser Lipolysis?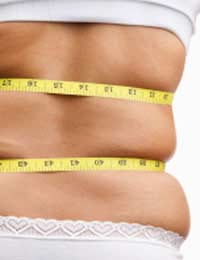 While SmartLipo is widely known as an alternative to traditional liposuction that "melts" away fat, other treatments are available that do almost the same thing. They all fall under the umbrella of "laser lipolysis", and they all use lasers to get rid of unwanted fat in small areas such as underneath the chin, love handles and saddlebags.
Compared to traditional liposuction, which can be used on very overweight people, laser lipolysis is only recommended for people with a BMI, or Body Fat Index, of 25 or less. It has an easier recovery period than liposuction, with less downtime, less bruising and fewer risks.
Several different types of laser lipolysis are available, with new ones emerging occasionally onto the market. The differences depend on the type of laser used, as well as the amount of power.
Types of Laser Lipolysis
SmartLipo. Perhaps the most well-known of all types of laser lipolysis, the SmartLipo device is manufactured by the Italian company Deka. It uses an Nd:YAG laser and a micro-cannula with a camera that allows the surgeon to see what he or she is doing. The cannula is very small, allowing delicate areas to be treated relatively easily.
OSYRIS Pharaon Laser Lipolysis System. Developed by the French company Osyris, it uses up to 25 watts of continuous wave energy, compared to SmartLipo, which only uses a maximum of six watts. Manufacturers say this is better because it liquefies the fat better, and that it targets only fat cells, leaving surrounding tissue undisturbed.
CoolTouch CoolLipo. Its manufacturers claim that its "unique wavelength" makes the collagen contract and therefore tightens the skin, which is a benefit you cannot get from traditional liposuction.
VaserLipo. Not really laser lipolysis, but similar. Uses ultra-sound technology, instead of lasers, to emulsify fat in the body. Manufacturers say the benefit of this relatively new method is that it concentrates only on fat, and does not disturb other adjacent tissues in the body.
How They Work
These minimally invasive treatments usually take at least an hour to perform, and a topical anaesthetic is applied. A fibre-optic probe or a cannula, depending on the treatment, is inserted underneath the skin, delivering energy that breaks up the fat and liquefies it.
The fat then, over the course of four to six weeks, is absorbed naturally by the body until it literally disappears. Unlike traditional, fat is sucked from the body – instead it naturally "melts" away.
There is, however, a new treatment called SmartLipo with Aspiration, where some of the fat is taken away immediately, showing instantaneous results. Usually, it will take four months – or more – to see the final results of laser lipolysis.
Common Areas Treated
Several small areas can be treated with these various techniques, including:
Back, especially near the bra strap line
Love handles
Chin and cheeks
Nose (where there are areas of loose skin)
Male breasts
Hips
Buttocks
Bingo wings, or upper arms
Thighs (especially saddlebags)
Other Considerations
Even though you may think that laser lipolysis is not real surgery, it is advised to always use a Board-certified surgeon, or one who is a member of the British Association of Aesthetic Plastic Surgeons or its equivalent. Poor hygiene or unsterilised equipment can cause infection and lead to dangerous consequences if not treated promptly.
Be advised that you may not see results for months, and in rare cases, people see no results whatsoever. And maintaining the look will require a proper diet and regular exercise.
Finally, make sure you follow all after-care instructions, including wearing a compression garment immediately following treatment, and avoiding sport and strenuous exercise for at least two weeks.
Laser Lipolysis may be for you if you have stubborn areas of fat that do not budge. But cosmetic treatments are not a substitute for taking care of yourself properly. You may want to try losing the weight yourself first – or learning to live with your perceived imperfections – before going down this route.
You might also like...