Non-invasive Laser Eye and Facelift: A Case Study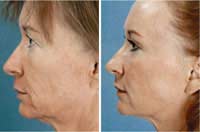 Customer suite manager May Davies from Burnham, Berks wanted to look younger than her 47 years. So a non-invasive solution seemed to be the answer...
May's Story
I had been sunbathing a lot over the years, and not doing the right after-sun care and treatment. As a result, I noticed that a lot of freckles on my face were turning darker, like small liver spots.
I was trawling through the Internet recently and came across Active FX from Lumenis. It's advertised as a "weekend facial" that is a lot easier on the face than a chemical peel, and which promises almost instant results in just one session. And it's much easier than surgery!
I rang around people at Harley Street to see if they knew about it, and was given a recommendation. I went for a consultation and was given the phone numbers of people who have had the treatment to ring. There were only a few, as this is a relatively new procedure in the UK, although it's more common abroad.
Everyone seemed happy with the results, so I thought: why not take the plunge? My main concern was that there was no down time as it would just take a weekend, then I could be fresh and ready for the next week – and look like I had an eye and facelift! I was thrilled about that and looked forward to something non-invasive, although it would cost me about £2,000.
Laser Treatment for Eyes and Face
When I went in, they explained to me that Active FX uses laser energy, which takes away the top layer of the skin and penetrates deeper down under the dermis to stimulate collagen growth.
The laser beam they use is non-invasive and slightly warm to the touch but not uncomfortable. You actually feel it and while it's quite warm it's not boiling hot, and there is a tiny bit of tingling afterwards. In effect it's like a chemical peel, but not so scary or smelly. I had friends who had chemical peels, and they looked like some awful lizard afterwards!
When it was over my skin did not come away in big sheets, it wasn't like a snake shedding its skin or anything. Instead, it came away in more finer pieces. It was very soft, the skin that came off, and it came off very gently. You could use a damp tissue or cotton wool ball to take it off so it wouldn't damage the skin underneath.
I was also very surprised that the skin that came off wasn't red, nor was I red immediately following the procedure. Sometimes you see people on telly who have had similar procedures done to their face and they appear quite crispy and scaly, you don't get this look at all with Lumenis.
The whole procedure took only about 35 minutes in total, it's just a one-off. It is expensive as it's new technology, and it's Harley Street. If you shop around you could get it cheaper, so you could shop around. But I wanted to go to the right place, to someone who had both experience and a good reputation. And it's cheaper than going under the knife to have a facelift!
Long-Lasting Results
One of the best things about Lumenis is that the results last for years. It's not one of those treatments where you have to go back every six months. In fact, it is supposed to last up to ten years, depending on how you treat yourself afterwards.
At least now there are better products on the market to keep the skin in better condition. When I first started wearing make-up there wasn't a good range. For someone like me, that's a little lifesaver.
The skin started coming off the next day, for just 48 hours – maybe that's because I have quite a little face! Afterwards it felt really soft and much firmer, like the collagen had been renewed.
A lot of the little fine line wrinkles underneath the eye area and the crow's feet area have entirely disappeared, just like a surgical facelift. I am a lot wider-eyed than I was, it has boosted the eye area for me a lot, and made all the skin on my face feel better.
Improved Confidence
At the office they've definitely noticed a change. The guys are great, they look, pop their head to one side, then look again. Then they ask, "Have you had your hair done?" I reply, "No, my face!"
My long-term good friends say, "You've had one of those facelifts!" I say, "What facelift? No, I haven't!" It's absolutely fabulous. A couple of them are looking into it now for themselves, especially the ones who are recently divorced.
It has been a boost for me, my confidence is better. When I talk to customers it has given me better confidence to go in there, tell them who I am, what I am doing, and what I want. And I feel more secure in my position at work when I look at the younger girls around me.
You might also like...