Breast Reconstruction Following Mastectomy: A Case Study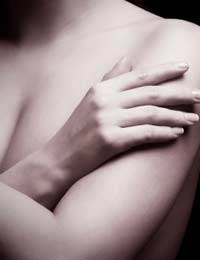 Alissa Harmon was devastated to learn in 2006 that she had breast cancer. The 44-year-old mum of two from Nottingham found a lump in her breast during a self-examination, and later tests confirmed that it was malignant.
"I was told that I would need to have a complete mastectomy, and then chemotherapy," says Alissa, a full-time mum. "Of course I was scared, but to me the most important thing was to be there for my kids."
As Alissa has rather large breasts – a size DD cup – she was worried that a mastectomy would make her look odd. But her surgeon told her that breast reconstruction, done at the same type as the mastectomy, could be a realistic option for her.
"I didn't want to go through two operations, especially as general anaesthetic was involved. So one op sounded a lot better to me," she says. "My husband Richard and I both wanted to put the whole experience behind us as quickly as possible and move on with our lives, so this seemed to make the most sense."
About Breast Reconstruction
Breast reconstruction surgery is not uncommon for women who have lost one or both breast due to disease, usually breast cancer. Women often feel "unfeminine" due to the loss of a breast or breasts, and a reconstruction can help them to feel better about themselves.
As a mastectomy results in a loss of all the breast tissue, reconstruction will involve one of four procedures. In the first case, the breast tissue and skin will be removed, and reconstruction will involve an implant and stretching of the remaining skin to cover it.
Another option is called a "skin sparing mastectomy", when the skin remains and just an implant is needed. Yet a third option is when tissue from other parts of the body is used to create a new breast, instead of an implant. That can come from other parts of your body such as your buttocks.
The last option is when a new breast is formed using a combination of your own living tissue as well as an implant. Which option is best for you will depend on the surgeon's opinion about your needs to be done with your mastectomy, first and foremost.
Implant Only
Alissa was lucky in that the skin was spared when she had a mastectomy, so she opted for a saline implant. "I had heard horror stories about silicone ones and didn't want one of those, nor did I like the idea of using my own tissue," she says.
"My main fear was that my breasts would be completely asymmetrical, and that I would need another operation. But luckily, that wasn't the case.
"They don't look exactly the same now by any means, although they do when I wear a bra. But they look good to me, and I don't want to go through another operation to have them look absolutely perfect.
"In any case, my surgeon tells me that in 10 to 15 years I may need to have the implant replaced, and then they can make the breasts match a bit better. Right now I'm just happy that I'm healthy more than anything, and that I look fine when I'm dressed.
"Breast cancer was difficult enough to get over, now I'm not wasting my time worrying about whether my breasts look amazing or not!"
Who's A Candidate?
Breast reconstruction is possible for most women who have had mastectomies, even if they have a radical mastectomy or very large breasts. If you have the operation on the NHS, however, you may go on a waiting list as few surgeons are experienced in this type of plastic surgery.
"We were lucky in that we had health insurance from Richard's job in advertising, and amazingly it paid for everything," says Alissa. "If it didn't, I'm not sure I would have had the reconstruction done separately from the mastectomy.
"I know some people do, but I just wanted to get everything over with. I've now put it all behind me, and hopefully won't have to think about breast cancer again."
You might also like...