Why I Had My Ears Pinned: A Case Study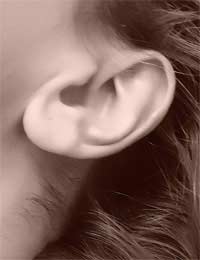 When Mary Gerard was a child, her mum thought her ears stuck out too much, giving her a "Dumbo the Elephant" look. So Mary, now a 45-year-old stay-at- home mum, had an operation to have them pinned back surgically.
She recalls the surgery – known as otoplasty - as being the most painful experience of her life – until several decades later she gave birth to her three children, that is!
"When I was a little girl, I always remember my mum worrying about my ears. I have several older brothers and two older sisters, but I was the only one she worried about," says Mary.
"She told me that they stuck out too much, but as I was only a child at the time, they didn't bother me. Then, one day, I went to hospital for a procedure to have them pinned. I was about ten or eleven years old, and it was horrendous."
All About Otoplasty
Most people who have their ears pinned back surgically do it before they reach age 14. Unbelievably, human ears are almost fully gown by age four, so often parents consider the younger the age of the child the better. Children under six months can sometimes have their ears pinned back with special moulds, and thus avoid surgery altogether.
Adults can have their ears pinned as well, although most people either have learned to live with protruding ears by the time they reach adulthood, or have already done something about it. However, having otoplasty carried out as an adult is not that uncommon.
The surgery can be done as an out-patient procedure with local anaesthesia, or with general anaesthesia, which is recommended in the case of small children. In most cases, the operation takes from two to three hours.
The procedure involves either making an incision to expose the ear cartilage, then sculpting it and bending it back alongside the head, or using small stitches to reshape the cartilage without removing any of it. Rarely, some of the cartilage is removed.
In some cases only one ear is protruding. When that happens, usually the surgeon will nonetheless work on both ears to make them appear more balanced and symmetrical. Estimates say that about two percent of the UK population believe they have ears that are too big, or stick out too much!
Traumatic But Worth the Trouble
Mary's operation came with an overnight hospital stay, which made the whole event even more traumatic for her.
"I don't remember much about the operation, but I do remember that my mum didn't tell me much about it beforehand, so that I wasn't really ready to go under the knife and felt quite scared," Mary says.
"I also remember coming home and spending about a week lying on the couch in a very careful position while they healed. I had to wear a large bandage wrapped around my head at first, and then a smaller one. And I took a lot of painkillers.
"The pain was excruciating, but that could have been because I was so young and hadn't really experienced any pain before. But then I have a friend who had otoplasty as an adult, and she told me that it was very painful for her as well!"
Happy Ending
Despite the trauma, Mary is now happy that she had the surgery. "As I have quite thin, fine hair, I think it would be very obvious now if my ears still stuck out," she says.
"I often wear my hair pinned back as well, and I dread to think of what my ears would look like today if I hadn't had the operation.
"Although I wasn't very happy with my mum at the time for making me go through the ordeal, I definitely am now!"
You might also like...