Can You Become Addicted to Cosmetic Surgery?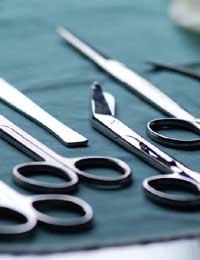 Not long ago, a leggy blonde American woman appeared on the Oprah Winfrey show. At first glance she appeared glamorous and well groomed, but upon closer inspection it was obvious that something wasn't quite right. Jenny Burton's nose was a bit too thin, her lips too full. And when she smiled, her eyebrows were way too high. At age 28, Jenny had already had 26 cosmetic surgery operations, ranging from boob job to a nose job to non-surgical treatments such as Botox. And she wants more. Jenny is an addict.
Becoming hooked on plastic surgery is not as difficult as you might think. For some, especially women, the more they have the more they want. And even price doesn't deter them. Another guest on Oprah´s show was in serious debt because of her addiction to liposuction, with her husband working three jobs to pay back the money and threatening divorce if she went under the knife again. She had already had lipo on her chest, tummy, back and love handles. But how does this sort of thing happen?
Why Do People Become Addicted?
For some people, a quick nip or tuck or a shot of Botox is a one-off opportunity to regain some lost youth. For others, it becomes a lifetime addiction. Why?
The fact is, so many people have become addicted to plastic surgery that plastic surgeons in the UK were given checklists several years ago to determine who was an addict and who wasn't. They were also told to be on the lookout for those had body dysmorphic disorder, or BDD, who imagined themselves to be ugly when they weren't. Part of the reason for this, they say, is the ready availability of plastic surgery treatments, including non-surgical ones, ranging from thread vein removal to tummy tucks. It seems everyone who wants an op these days can get one.
The problem is compounded by the feeling of well-being many people experience after having an operation carried out. Not unusually, they believe that a second - and then a third, then a fourth - operation will make them feel even better and better. In a word, they don't know when to stop. When the elation fades, they go back again. And again. And again...
How Can You Beat the Addiction?
People with BDD don't see themselves how they really are, which is why the condition is related to anorexia and OCD, or obsessive-compulsive disorder. That's why no matter how many operations they have, they never believe their appearance looks any better. For them, therapy is the best treatment, to help them see themselves as others see them.
People who suffer from this disorder always have negative feelings about themselves and their looks, and incredibly low self-esteem. He or she may also have very unrealistic and high results about what plastic surgery can do for them, and believe they could be ¨cured¨ if only they looked better.
People who don't have BDD but are addicted to plastic surgery are often addicted to the short-term high they get from having it done. During the recovery period they get attention from friends and family, and later they get loads of comments about their looks. When the comments begin to fade, they seek for another round of surgery to begin the cycle all over again.
The best way to avoid this trap is to have realistic expectations from the start. Plastic surgery is not a way to enhance your self-esteem, lovelife or job opportunities, it's a way to enhance your looks. Know what you want before you go down this road, know what to expect and think about how it will change your life. Real change only comes from within, so if you place too many expectations on surgery you may not be a good candidate for it at all. Consult with your GP or get a referral for counselling first, to see if this is really the road you should be taking.
Plastic surgery may not be a bad thing. It can be used to correct facial deformities, and can save lives when it comes too chronic obesity. But in today's body-obsessed society, too many people are turning to it to get the ¨perfect¨ body, which they think will make their lives happier.
It's estimated that two-thirds of all cosmetic surgery patients are repeat patients. Once someone has the first treatment, it's all too easy to come back for repeat enhancements. Some people believe it may be safer to stay away in the first place. Others says some of the responsibility, at least, should rest with surgeons, who should refer addicts to trained psychologists instead of giving them more of what they want. Ultimately, however, it all comes down to you. So make the right choice.
You might also like...