Potential Complications of Cosmetic Surgery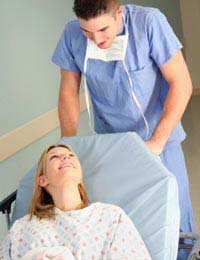 There is no doubt that for many people, cosmetic surgery leads to a surge in self-esteem. In today's society, it's an uncomfortable truth that the more attractive you are, the better people relate to you. Having a physical "problem" that needs to be corrected can often make people self-conscious and unable to get on with their lives.
Having cosmetic surgery, however, is a very big step, and if you decide to go down this route then you want to make sure that everything goes according to plan. One way to help ensure this happens is to be fully aware of the possible complications and risks - before you go under the knife.
Possible Complications
Any type of surgery carries inherent risks, especially when general anaesthesia is involved. If you are planning cosmetic surgery of any kind, talk over the potential complications with your surgeon or GP first. While complications are rare, they can happen. They can include:
Reaction to anaesthesia. You could suffer a heart attack, stroke, temporary paralysis or even death if this happens. If you have had a reaction to any type of anaesthesia in the past, make sure your surgeon is fully aware of this.
Airway obstruction. This happens when the anaesthesia irritates the vocal chords until they start to spasm and block the airway during surgery. Can require immediate surgical intervention.
Blood clots. If you are overweight, have a genetic history of cancer, have a blood clotting disorder or recently suffered a traumatic injury, you will be more at risk than others.
Infection. Taking antibiotics can reduce this risk, but any operation involving cutting a person open means the possibility of infection is always present.
Drop in blood pressure. If this happens to a significant degree the result could be a heart attack.
Haematoma: This is when blood collects underneath the skin, occasionally requiring additional surgery.
Asymmetry. While mild asymmetry is normal, especially with breast augmentations and reductions, if the asymmetry is significant you may require a second surgery to rectifythe problem.
Numbness. Many people experience a feeling of numbness following surgery in the affected area, resulting from injury to the motor nerves. This is usually temporary, but not always.
Scarring. Most procedures will leave some sort of scarring behind, although surgeons these days have devised many clever ways to conceal this. In some cases, however, the scarring may be a lot worse than anticipated.
Skin death, or necrosis. Affects smokers more than anyone else. In worst-case scenarios the affected skin will need to be excised, which will leave an unsightly cosmetic effect.
Unhappiness with outcome of surgery. Not everyone is happy with their surgery. Having realistic expectations (see below) is key. Don't expect that having a facelift will make you look 25, when you're already 80!
Depression. Some people experience depression following cosmetic procedures, as they expected surgery to solve all their problems. It won't.
Ways to Avoid Risks
There's no way to guarantee that your operation will have a 100 percent success rate, but there are ways to minimise the complications – and the risks.
Knowing all about the procedure beforehand is vital. Don't be afraid to ask as many questions as possible. If your surgeon makes you feel uncomfortable about asking so many, go somewhere else.
That said, make sure you only use a board-certified or accredited surgeon, as well as a facility or hospital with a good reputation. Saving money by choosing to have plastic surgery abroad may end up costing you more in the long run.
The Right Candidates
Make sure you are the right candidate for the procedure. Women who are taking HRT or certain oral contraceptives may be more at risk than others, as well we people who smoke, are overweight and have certain medical conditions such as diabetes. Ask your surgeon or your GP beforehand to learn the risks. If you are told to stop smoking or lose weight before surgery, do it.
Follow all after-care procedures to the letter. Don't be in such a rush to show off your new boobs/nose/tummy that you risk losing it all. If your surgeon recommends you take three weeks off work, do it. And if anything looks or feels funny, go back to your surgeon pronto.
Finally, have realistic expectations. If you expect that having a nose job will solve all your problems, you'll be sadly disappointed when it doesn't. Underneath it all you're still you, no matter what size your breasts are of if your tummy is flat or not.
Plastic surgery can be a life-changing experience for many people, but go into it with your eyes wide open. Find a surgeon you trust, but don't leave everything up to him or her. A favourable outcome depends, in part, on you – so take responsibility for your health and find out all the potential risks and complications in advance. You'll be glad you did.
You might also like...
@Daisy - If you have had cosmetic surgery and you are not happy with the results, or you think that the procedure was not carried out properly, you should take the matter up with your surgeon, through the hospital, or clinic, that referred you. The surgeon, or hospital staff, may be able to deal effectively with your concerns, particularly if the healing process is not complete, or your body still needs time to settle down. If, after the healing process is complete, you are still not happy with the results of your surgery, the hospital, or clinic, may offer you further surgery to put things right. However, if you are not happy with the cosmetic surgeon's suggestions you can complain, see our partner article; When Cosmetic Surgery Goes Wrong, link
here
. I hope this helps.
ExploreCosmeticSurgery
- 10-Apr-15 @ 9:52 AM
Hi, I visited a oculoplastic surgeon who recommended botox to treat my glabella frown lines almost 3 weeks prior to him performing a bilateral upper lid belpharoplasty. He gave me the impression that it would be of some kind of benefit during surgery.I am now 15 days post op and my right eyelid is droopy. As it was purely the skin which was removed, my surgeon tells me it is the botox which has caused this. Really?? Is this possible after having no adverse affect for 3 weeks prior to surgery? I would be really grateful for another opinion as I am so worried!
Daisy
- 7-Apr-15 @ 9:51 PM