Hair Transplants for Women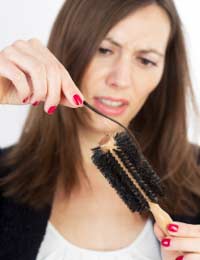 When a man begins to lose his hair, people often perceive him as being "rugged" and "natural-looking". But when a woman begins to lose her hair, it can take a devastating toll on her self-esteem.
Women who experience even partial hair loss used to suffer only in silence, which could lead to feelings of plummeting confidence and, eventually, depression. Not anymore. Hair transplants for women are having surprisingly good results, and can transform how a woman looks and feels about herself almost instantly.
Why Women Lose Hair
Women lose hair for a variety of reasons. Female pattern hair loss is not uncommon, but is a bit different from male pattern baldness. For one thing, women rarely go completely bald, with most women having at least some hair well into very old age.
Here are some reasons why you might be losing your hair:
Genetics. Some people are just unlucky and at least some degree of hair loss is already genetically programmed into their future. This is more common in men than in women as it has to do with male hormones that interfere with the normal cycle of hair growth.
Hormonal imbalance. Hormones can play a role in how much hair we have, especially as the result of pregnancy or menopause. HRT, or Hormone Replacement Therapy, and other prescription medications can also affect hair loss.
Stress. Stress or sudden trauma can often result in hair loss, although in many cases this can be reversible.
Traction alopecia. This leads to hair loss due to regular pulling of the hair, for example, daily braiding. While it may not be evident at first, this type of traction can destroy the hair follicles and result in hair loss.
Other medical conditions. Sometimes a lack of a certain nutrient or some medical condition, such as anaemia or a thyroid problem, can result in hair loss, which is why it's a good idea to see your GP first to rule this out.
How a Transplant Can Help
It used to be thought that only some women were suitable candidates for hair transplant surgery. But now that technology has evolved, virtually all women can have it done – as long as you have some hair still left on your head.
Most transplants require taking strips of skin from donor areas on the scalp and replanting the grafts of hair in the thinning areas. This is called Follicular Unit Transplantation, and is the most popular form of hair transplant today.
Another kind is called Follicular Unit Extraction, where a small instrument punches out hair grafts to be replanted, instead of harvesting entire strips.
While this does not result in scarring, it is a much more time-consuming process as fewer hairs can be harvested at one time. There is also the possibility that some of the follicular units could become damaged and not take as well.
Male and Female Hair Transplants
Hair transplants for women differ from male transplants in two main ways. First of all, women tend to lose hair from all over their scalp, whereas men usually lose it in the front. That means a surgeon needs more skill to place grafts all over a woman's scalp, in between existing hairs.
Secondly, women need to have thick enough donor hair to cover all areas for the transplant to really work. Usually, the hair available is sufficiently dense, but a surgeon will have to make the final call.
An Option for You?
Hair transplants are not for everyone, but some women find they give them a whole new lease on life, making them feel attractive again and giving them back lost confidence.
If you are considering this route, use only a Board-certified hair transplant surgeon and have a long consultation first to determine which type of female hair loss you are currently experiencing. You might that alternative methods of giving back lost hair – such as topical applications – are a better and much less invasive idea.
You might also like...