Will Scars be Visable After a Facelift?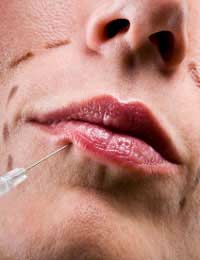 Q.
I am 40 and interested in facelifts. I found some information that said facelift scars will be visible after surgery, is that true? Is there any way that cosmetic surgery scars would not be visible?
(Mrs Anjum Akbar, 22 January 2009)

A.
Gone are the days when Hollywood women had tell-tale scars behind their ears, telling the world that they have undergone a facelift. If you go under the facial knife today, there is a chance you will have such little scarring that virtually nobody will notice. Then, there's the chance that something could go wrong – and your scars would be visible.
Plastic surgery of any kind is always a risk, but having a facelift, or rhytidectomy, is a tried-and-tested operation that usually has good results, except in the case of a cowboy surgeon. Both excess skin and fat are removed, and the soft tissue of the face and neck is tightened. It doesn't last forever, nor does it stop the effects of ageing, but it can make you look younger for longer.
S-Lift
This is perhaps the best facelift for those who are scared of scars. Unlike traditional facelifts, where incisions are made along the hairline and ear creases, S-Lift incisions are made in the hairline itself. This procedure gets its moniker from the s-shaped cut the surgeon makes in front of the patient's ear.
Mini or Weekend Facelift
This method takes less time than regular facelifts, and the recovery period is shorter. It focuses on specific areas, such as nose folds and the neck. Smaller incisions are made for the surgeon to lift and reposition facial tissue – and take away fat – before sewing you up again. Sounds like fun - not!
A mini facelift is traditionally for younger patients in their 30s or 40s who want to concentrate on certain areas of the face, rather than have a complete facial overhaul. For those worried about scarring – smaller incisions mean smaller scars.
Points to Consider
Remember that it is very important to follow your surgeon's instructions to the letter when it comes to post-facelift activities, especially when it comes to doing anything strenuous. Too much activity can put extra stress and strain on the face, which can result in additional scarring.
Also, keep in mind that some people scar more easily than others, and that people with darker skin may be prone to more visible keloid scars than those with lighter complexions. Saying that, scars from facelifts, when visible, usually are a dull pink at first, then fade within a few months. With a decent surgeon, no matter what type of facelift you choose, these should be confined to the hairline – where they can be hidden – and inside the natural creases of the skin.
Finally, surgery of any kind always involves risk. Use a Board-certified surgeon and do your homework - and have realistic expectations. No operation can make a 55-year-old look like a teenager, but by doing research beforehand you can maximise your chance of looking your best.
You might also like...