Breast Implant Removal and Replacement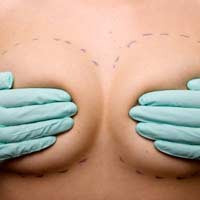 Breast implants can significantly change the appearance of a woman´s chest, making her bosom look a lot larger than nature intended. This specific cosmetic surgery can work wonders, but occasionally something goes wrong. When this happens, often the implants need to be removed and replaced, a procedure that is more time-consuming than anything else. This is because creating pockets for the implants, the hardest part of the procedure, already occurred when the original boob job took place.
Why Can Breast Implants Need to be Removed?
Reasons for the need for breast implant removal are many, including:
Change of size or shape. Sometimes this is a result of the body´s reaction to having implants, other times it can occur due to infection, bleeding, or other circumstances.
Leakage or rupture of the implant itself. This happens with some implants and can cause the implant to shrink, sag or deflate. You will mot likely know within a couple of hours if a saline implant deflates. With silicone ones, however, you may never know unless you have a mammogram or MRI scan. Removal of ruptured silicone implants can take quite a while.
Capsular contracture. This occurs when the body reacts to the implant as a foreign body, making a tight capsule around the implant. Although this is a normal response, when the capsule becomes too tight it squeezes the implant, which can cause it to become misshapen and often distorted in appearance.
Change of heart. Sometimes women who once wanted very large implants change their minds and go back to a smaller size. Think Jordan.
Symmatasia. Also called uniboob, this occurs when the surgeon places implants in chest pockets that are created too close together. The only way to correct this is through revision surgery.
Diagnosis of breast cancer.
How is Breast Implant Removal Carried Out?
This is done under local anaesthesia with sedation or general anaesthesia, depending on the patient. It can be one as outpatient surgery and usually does not take more than one hour. Your surgeon will make an incision either under the breast or around the areola, then remove the implant and put in a new one, if desired. Saline implants may need to be deflated first.
Please note that if you had very large implants removed and have them replaced with something smaller or nothing there may be a need for further plastic surgery to make your chest appear normal. Even women who choose to have moderately-sized implants removed may need a breast uplift operation afterward.
What is the Recovery Period Like?
Remember, in the vast majority of cases much of the original surgery was already carried out the first time around. Most women return to work in three or four days and resume normal activity within a few weeks. You may still have some swelling, bruising and discomfort, and the usual complications can arise, such as bleeding, numbness, skin discolouration etc. Occasionally a woman may feel undue emotional distress following implant removal, if this happens see your GP for advice on where to get help. And always use a plastic surgeon who is a member of the British Association of Aesthetic Plastic Surgeons, or BAAPS.
Breast augmentation need not constitute a permanent change to a woman´s life, and many women embark on the operation taking comfort in the fact that it is reversible. Still others have implants removed for other reasons, listed above, only to have them replaced. No matter what happens, isn´t it nice to know that removal is an option?
You might also like...
I'm interested in breast implants removal with out replacement, no lift and local anesthesia. Thanks
Aman
- 20-Apr-18 @ 11:12 AM
@Tori - obviously it depends on your specific needs and an appointment with a consultant would be able to advise you on these. But in general terms a bilateral areola reduction under local anaesthetic as a day case begins at around £2,600. If you want general anaesthetic then you are looking at pices from £3,000. Hope this helps.
ExploreCosmeticSurgery
- 13-Oct-14 @ 2:01 PM
Please can you tell me how much aerola reductions start from. Thank you
Tori
- 13-Oct-14 @ 11:15 AM