What is the Benelli Breast Lift?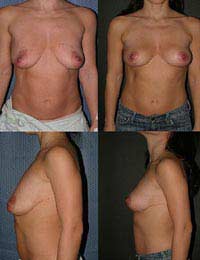 If you have smaller breasts and are dissatisfied with the way they sag or droop, then the Benelli breast lift may be what you have been searching for. Also known as a "donut mastopexy", it is a relatively simple plastic surgery procedure that leaves little scarring.
The Benelli breast lift was pioneered by Dr. Louis Benelli in the 1990s. It is considered a less invasive lift than other types of breast lifts, but the results do not work well for women with larger breasts. It also is not great for women with serious ptosis, or sagging, working better for women who suffer from only mild to moderate sagging.
What it Involves
The Benelli Breast Lift, sometimes referred to as the perioaeolar or concentric lift as well, works by a surgeon making an incision around the top of the areola. This is followed by a second incision symmetrical to the first, but wider at the top near the nipple.
Using special sutures, the excess skin – which is in the shape of a donut, hence the name - will then be removed in effect, changing the skin "brassiere" that holds up the breasts. When done properly, the areola and the nipple will both be raised by a few centimetres, making the breast appear higher.
Please note that if you want to have significantly fuller breasts, this cannot be accomplished by a breast lift alone. Breast implants would be necessary, which may be able to be inserted at the same time as the Benelli lift.
Benelli Benefits
If you qualify for a Benelli breast lift, there are several reasons why you might choose to have this type of plastic surgery performed, over a traditional breast lift, or mastopexy. Some of the reasons are:
There is less scarring, as the scars will be around the areola area only, and therefore should be cleverly hidden.
It costs less than a traditional breast lift.
Local anaesthesia can be used instead of general anaesthesia, so the procedure is safer. However, you can opt for other types of sedation as well, so that you will be relaxed while the operation is being carried out.
The recovery period will be shorter than it would be with a more traditional breast lift.
Women with slightly larger breast that sage may opt for what is known as a "Benelli lollipop", where the nipples are raised even more to make the breasts look less saggy.
There are many reasons why women lose shape in their breasts. Gravity plays a huge role but breast-feeding and age also play their part as well. While having at least slightly droopy breasts is common, many women wish they still had the perky chest of yesteryear looking back at them in the mirror.
A Benelli breast lift may give you back the breasts of your dream, but only opt for this plastic surgery is you can find a Board-certified and accredited – and licenced – plastic surgeon who has carried out this procedure countless times before.
And before having plastic surgery of any kind, you will need to be in good health, be willing to stop smoking before the operation is carried out, and have realistic expectations. You also must be prepared to follow the after-care instructions to the letter, both to avoid infection and get the best results.
You might also like...