Breast Reduction Surgery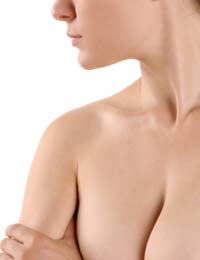 Many women suffer as the result of having very large breasts, feeling pain and discomfort in their backs and necks, having clothes that don't fit, and suffering unwanted glances and comments from men. For them, breast reduction surgery could be the answer. Known as a mammoplasty reduction, this form of plastic surgery is a procedure where some of the breast tissue is removed, resulting in smaller breasts. For many women the operation is a godsend, giving them a new lease on life and stopping their chests from continuing to have a dominant place in their lives.
What Does Breast Reduction Surgery Entail?
This surgical operation, which lasts usually from two to four hours, is one where the nipple is removed and put back in line with the middle of the arm, while some of the breast tissue and skin are removed and what's left is uplifted. The result is a smaller and perkier breast. The operation takes place under general anaesthetic and a two-night hospital stay is recommended, as well as at least two weeks off work. For a six-week period you are advised to take it easy, not lift anything heavy and wear a special support bra that has no underwires.
Will Breast Reduction Surgery Affect My Ability to Breastfeed?
Because some of the breast tissue is removed, the answer is yes. It is important to discuss this with your surgeon beforehand, and may be a good idea to wait until you have had your child - or children - before having this surgery.
Will I Experience a Loss of Nipple Sensation?
Many women also experience some loss of sensation in their nipples. In most cases when the nipple is moved it stays attached to blood vessels, but this cannot always be the case. Despite this, it is one surgery that has a significantly high number of satisfied patients.
Will I Have Scars?
Yes. Smaller patients may be left with a scar around the areola, while the majority will have a lollipop incision, around the nipple and down, or one that also goes into the mammary crease. You will also see and feel bruising for several weeks afterwards, but that will disappear.
What Are the Benefits of Breast Reduction Surgery?
Scientists found that the vast majority of women who had mammoplasty reduction had less shoulder, back and neck pain, fewer headaches, breast pain and numbness, as well as pain in their hands. Women whose bodies are small in proportion to breast size had the most benefits. Doctors often now see the surgery as not just cosmetic, but also therapeutic. It also can give a woman back her self-esteem, allowing her to choose different clothes and stop her chest from being a focal point in her life.
What Are the Potential Complications?
By far the most common complication is breast asymmetry. Others include scarring and potential or partial loss of the nipple, or skin of the nipple. In rare cases there is the risk of skin necrosis, or loss of skin.
How Much Does a Breast Reduction Cost?
It varies, depending on the area you live in and clinic you choose, but expect to pay at least £3,700 for an operation with a reputable hospital or clinic in the UK. Keep in mind that breast reduction surgery is one "cosmetic" procedure commonly offered on the NHS, so speak with your GP to see if you qualify.
Lots of people mistakenly regard breast reduction surgery as cosmetic surgery. But unlike breast augmentation, where the end goal is largely aesthetic, this surgery can relieve years and years of physical pain and discomfort. It's not surprising that the vast majority of women who have this operation are so pleased with it - the results speak for themselves. If you are thinking of having this op done yourself, speak to your GP to find out more, and only use a surgeon certified by the British Association of Aesthetic Plastic Surgeons. It's a step you won't regret.
You might also like...
I've tried for over 10/15 years to get a breast reduction on the NHS .. single mum and I can't afford the cost of £7500 for one I've had numerous physio sessions Pain clinic sessions CBT sessions Acupuncture sessions Doctor visits 8 pain killers a day Along with my Citalopram and thyroxine as I have an under active thyroid I've been told I need a gigantomasty surgery doing as I am a GG I suffer terrible and have no life , going out results in comments from strangers So easier to stay in Depression kicks in with feeling low and not being avlr to be active I don't meet the NHS criteria because I am a number not a person I'm too fat for an NHS operation (bmi34) but yet been under Heartlands hospital for a year I was too healthy/fit for a gastric sleeve /band /ballon as I wasn't diabetic or had high blood pressure or had sleep apnea but I do suffer with broken sleep every single night Just thought I'd share with you my life how it is .. many thanks for your time in reading this.
Wend
- 25-Mar-18 @ 10:00 PM