Breast Augmentation Surgery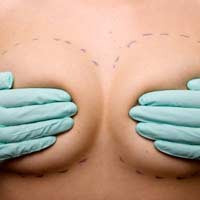 Women who want bigger, fuller breasts sometimes choose to have breast augmentation surgery. This surgical procedure increases the size of a woman's breast by using implants, which are inserted underneath the skin. The surgery is also used to correct the size and shape of uneven, or asymmetrical breasts, and to replace breast tissue lost due to cancer or other illness. Depending on your previous shape and the size of implant used, the result can be natural-looking, realistic breasts. Some women who suffer low self-esteem due to the small size of their breast see augmentation surgery as a way to feel moe confident about themselves, and life in general.
What Is an Implant?
Implants are "pillows" of gel or liquid that are put beneath your breast muscle or breast tissue to give the appearance of a natural breast. At the moment two types of implants are the most widely available: silicone-gel filled and saline filled, and you will need to discuss with your plastic surgeon which one is best for you. Silicone ones are more widely used as they give a more natural shape. Saline implants do not look as realistic, can wrinkle or ripple, and in some studies have been seen as potentially unsafe.
What Does a Breast Augmentation Operation Entail?
The operation in most cases requires at least an overnight stay with general anaesthetic. Your surgeon will decide where to make an incision for the implant, which is usually underneath the breast but can be in the armpit or around the areola's edge. Once the incision is made a pocket for the implant to lie in will be made, it will then be slipped in and the incision stitched up. You may have dissolvable stitches that do not have to be taken out.
Will I have Normal Feelings in My Breasts Following Surgery?
The vast majority of women do not notice a difference, but in some cases the nerves on your chest that supply sensation to the nipples may be affected. Discuss this with your doctor before having surgery so that you can make an informed decision.
Can I Breastfeed Following a Breast Englargement?
Usually yes, as the implants are placed beneath the milk glands and thus rarely cause problems with lactation. Discuss this with your surgeon beforehand.
What is the Recovery Period Like?
Women who have breast augmentation surgery need to rest afterwards, but they should not stay completely immobile. It is important to be gently active, but certain activities should be avoided at all cost. They include heavy lifting, strenuous exercise, hoovering, swimming etc. It is advised to rest for at least six weeks, and to take time off from work for at least seven days. A special supportive sports bra should be worn during the recovery period, and depending on your shape, your surgeon may advise that it be worn 24 hours a day.
Are There Any Complications?
Studies have shown there may be a link between saline implants and specific illnesses, including neurological and rheumatological problems. Women who have implants for an extended period of time may also face increased auto-immune complications. More common is an implant rupture, which can be easily corrected, and capsular contracture, when the body sees the implant as a foreign body and acts accordingly, squeezing the implant and thus distorting the breast's appearance. This can be exceedingly painful and may require the implant to be removed. Ask your surgeon to discuss other potential complications with you.
How Much Does a Breast Enlargement Cost?
Prices of course vary, but a complete package can cost anywhere between £4,000 and £8,000 if done in the UK.
Surgery is never something to be entered into lightly, but many women say their lives have been irrevocably changed for the better following breast augmentation surgery. A "boob job", when done properly, can give a woman back her self-confidence if she is unhappy with the size of her breasts, has asymmetrical breasts, following childbirth, weight gain or weight loss, or an illness such as cancer. Just do your homework beforehand, and get a surgeon that you trust, one that is certified by the British Association of Aesthetic Plastic Surgeons.
You might also like...
Please Please, can anyone help me. I lost my husband 2 years ago at a relatively young age. I thought i would never feel love again! I recently began going through the change just after. Now IM so unhappy and depressed i want to lock myself away from everyone and life itself. I had, before the change ample full breasts. NOW ALL MY BREAST TISSUE IS GONE!!!! I LOATHE MYSELF, I CANT EVEN LOOK AT MYSELF UNDRESSED WITHOUT BREAKING MY HEART SOBBING FOR HOURS. i'M NO LONGER A WOMAN, i'M A FREAK. I WEAR LAYER AFTER LAYER TO HIDE MY SHAMEFUL BREASTS. MY FAMILY AND FRIENDS THINK I HAVE GONE CRAZY AS IM ALWAYS IN TEARS AND WEARING SIX JUMPERS IN JULY TO THE POINT I ACTUALLY PASSED OUT AT AFAMILY PARTY. IM TOO ASHAMED TO TELL A SOULTO MAKE THINGS WORSE (AS IF THEY POSSIBLY COULD, I MET A WONDERFUL GREEK MAN WHO NOW THINKS I DONT WANT TO BE INTIMATE WITH HIM ANY MORE, HE IS RIGHT, I NEVER WANT ANYONE TO SEE MY DISGUSTING NON BREASTS, i BARELY MAKE IT THROUGH THE DAY, I'M SO UNHAPPY, I HAVE NEVER FELT SO DOWN AND SO DESPERATE IN MY ENTIRE LIFE. WHAT LIFE. IM GOING TO lose THIS WONDERFUL MAN, I HAVE NO LIFE, AND WHAT LITTLE I DO, I HATE. IVE TRIED TO GO OUT, BUT CAN'T POSSIBLY TAKE OFF MY COAT, IT IS ALL I HAVE TO COVER UP MY MANS CHEST PLEASE IS THERE ANYBODY WHO CAN HELP ME, IM NOT SURE HOW MUCH MORE HEARTBREAK I CAN TAKE. I LITERALLY SOB THROUGH THE DAY AND CRY MYSELF TO SLEEP, AND THAT IS IF SLEEP COMES, BECAUSE 6 DAYS FROM 7 I JUST CANT SLEEP. I NEED A MIRACLE . I WISH I COULD CLOSE MY EYES AND NEVER HAVE TO LOOK AT MY HIDEOUS VILE BODY EVER AGAIN, ON TOP OF ALL THIS IM SCARED TO DEATH OF LOOKING AND FEELING LIKE THIS. I NEED SOMEONE, ANYONE THAT I CAN TALK TO ABOUT HOW I COULD HAVE MY NON-BREASTS MADE BIGGER, BUT MY LATE HUSBAND LEFT ME ONLY A PILE OF DEBT, NO WAY COULD I AFFORD THE PROCEDURE THAT I SO DESPERATELYNEED. PLEASE PLEASE PLEASE CAN ANYONE PLEASE HELP ME IM SO FRIGHTENED
Rain
- 2-Dec-18 @ 11:19 AM