What is a Bikini Line Tummy Tuck?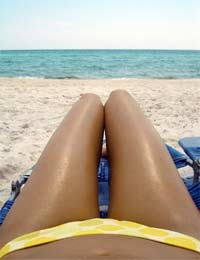 Lots of factors can have an effect on the appearance of a woman's abdomen, including pregnancy, weight gain and plain old age. Fat, stretch marks, and scars from C-sections all conspire together to make the female tummy look far different than it did in its youth, when it appeared taut and tight.
For decades, many women have resulted to tummy tucks to get back their smooth, flat stomachs, although often this means having a hip-to-hip scar. Now you can have a bikini line tummy tuck, one that is much less invasive but which still has long-lasting results.
What is a Bikini Line Tummy Tuck?
Also known as a mini tummy tuck, this form of abdominoplasty seeks to leave a scar as small and as low on the stomach as possible. The skin is removed is much less than with a normal tummy tuck, and the incisions are made underneath the belly button, resulting in less scarring.
Although bikini line tummy tucks are less invasive than full ones, please be advised that they still involve an operation with general anaesthesia, and are considered major surgery. You will have the same risks everyone has with a general, such as the risk of clotting and infection, and there is always the possibility you will be less than pleased with the result.
For best results, only use a surgeon who has done the procedure many times before, and one who is Board-certified or a member of the British Association of Aesthetic Plastic Surgeons (BAAPS) or its equivalent. Operations, especially cosmetic ones, are not to be taken lightly, and you should think seriously before having any type of procedure carried out on your body.
Who Can Benefit from a Bikini Line Timmy Tuck?
Tummy tucks of any kind are not right for everybody. If you think you may want to have more children, it is advisable to wait before having abdominoplasty of any kind. Also, if you are in poor physical condition, a heavy drinker or smoker or are planning to lose a lot of weight, this type of cosmetic procedure may not be in your best interest.
Women who can benefit from bikini line tummy tucks are those who:
Have exercised and dieted but still cannot budge that extra weight
Want to get rid of excess scarring from pregnancy or weight gain, such as stretchmarks
Have lost or gained a lot of weight
Find a lot of difficulty in buying clothes that fit
Feel that their current shape and weight are slowing them down and making life more difficult than they want it to be
Do not feel the need to have full abdominoplasty
A bikini line tummy tuck can revolutionise the way you feel about yourself, although surgery alone cannot give you healthy self-esteem. Such operations are less invasive than full tummy tucks and should leave minimal scarring, but always consult with your plastic surgeon and/or GP carefully before embarking on surgery of any kind. If you think it's the right operation for you, good luck!
You might also like...
Hi my name is asad My wife kate rezahi had operation 2 years ago afteroperation she lost a lot of weight the only thing is the problem she's got a lot of excess skin even though she is stressed because of the excess skin when she's at home she look at herself she does not like her body at all when she goes out she have to hide her body it is really difficult she keep thinking about it I would like to do something if it's possible maybe remove her excess skin but I'm not sure what to do and where to go I need help or some more information please our contact number is 01752 956 314 my mobile number 07411 341 443 thank you
asad
- 17-Jan-18 @ 8:15 PM