Reducing Back Fat With a Bra-line Back Lift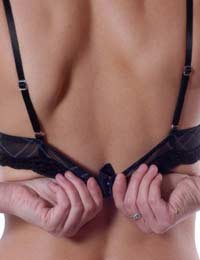 Back fat is becoming the latest anomaly plastic surgeons are trying to do away with forever.
Many women's hearts fill with dread when they contemplate wearing a tight-fitting top or dress and think of the hated back-fat rolls bursting out from around their bra-line. But now there is a new procedure that can get rid of back fat: the bra-line back lift.
What is a Bra-Line Back Lift?
The bra-line back lift is a new procedure developed, not surprisingly, in America. In a nutshell, it seeks to remove back fat and bulges while cleverly hiding the scar underneath the bra line. Not exactly perfect when you are naked, but fantastic when you wear tight clothes or a bikini.
The surgery contours the middle and the upper back by removing the fat and much of the excess skin covering it, sometimes a swathe as wide as ten inches. The remaining tissue is then stitched together to form a small scar in an operation that usually takes about one hour.
Key to having a successful back-lift is to pay close attention to the women's undergarments. It is important that the scar is placed directly where she will wear her bra. Usually, pre-operative marks are made while the patient is standing in her undergarments to ensure the correct placing of the scar.
Who Can Benefit from It?
According to the plastic surgeons who perform the procedure, virtually everyone. They stress that it is not only for overweight women who have big bulges of unattractive fat, but also for lithe fitness instructors and personal trainers who are in great shape yet nonetheless struggle to get rid of tell-tale ridges underneath their clothes.
The surgeons claim that back fat is a natural result of ageing and, for most people, cannot be done away with entirely without a bit of extra help. Dr Joseph Hunstad MD, the author of the first study on the procedure, published in the official medical journal of the Association of American Plastic Surgeons, says the surgery can be good for everyone.
In his article, he wrote that many patients, including those for whom fitness is a profession, found that specific area of back fat to be very frustrating (don't we all know it!). However, he stressed that back fat is often a result of ageing and as such is impossible to simply melt away through exercise, no matter how hard we try. A bra-line back lift virtually eliminated the problem, making it possible for any woman who had it done to wear tight-fitting clothes with confidence, he concluded.
What Are the Risks?
The study found this cosmetic procedure to be safe, and that patients who underwent it had minimal complications with good results. It took about a fortnight for patients to begin resuming their normal activities, depending on their level of discomfort.
Of course, as with any procedure, especially those involving general anaesthesia, there are risks.To minimise them, always use a surgeon certified by the British Association of Aesthetic Plastic Surgeons (BAAPS) or its equivalent, and make sure they have done this procedure several times before and are familiar with every aspect of it.
If you cannot find a surgeon in the UK who has preformed this type of cosmetic lift many times before, you may have to travel to the States – where it could be considerably cheaper!
You might also like...