Pectoral Etching for Men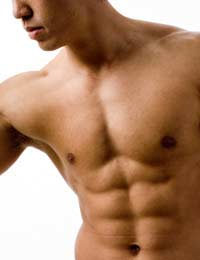 Most women want to have bigger, fuller breasts. Most men want to have tighter, harder pecs. For those who don't, however, a new plastic surgery procedure is now available that will make them look like they do – naturally, without resorting to pectoral implants.
What Exactly is Pectoral Etching?
When men have pectoral muscles they are unhappy with, often it's because they have mild gynecomastia, or manboobs. One way to get rid of this is liposuction, followed by a pectoral implant. Another way, which is considered to be far less invasive, is a relatively new technique called pectoral etching.
Like the name suggests, this procedure is a new option for men who don't want the hassle – or embarrassment – of implants. It was taken from abdominal etching, a similar technique which gives new contours to the tummy area. In this case, men's breasts are made smaller through liposuction, a procedure where the excess fat of the breast tissue is literally sucked out.
However, a modest pad of fat is left, which is then placed over the pecs, making a noticeable contrast to the existing muscle. In effect, this procedure makes the breast appear smaller and the muscle appear larger. Not bad, eh?
What are the Advantages?
Compared to pectoral implants, plenty. Men who have this procedure do not have to worry about their body rejecting implants, which happens in a significant number of implant cases; they know they have permanent results, and the scars they are left with are virtually undetectable in the vast majority of patients.
In fact, a study of 200 men who had the surgery found that 196 were 100 percent satisfied, while only four suffered minor complications. Another study found that over time the results remained virtually intact, even with men who saw weight gain over the years or witnessed some sagging of the skin on their chests due to age.
Combined with abdominal etching (see above), the two result in a taut, lean-looking torso.
Who is a Good Candidate for Pectoral Etching?
Men with puny/concave/chicken chests. Seriously, many types of men can benefit. They include:
Men with breasts they believe give them a "feminine" or soft appearance
Men who fail to be happy with their chest size, despite working out regularly and following the correct diet for their lifestyle
Men who have lost a lot of weight and are left with a saggy chest area
Men who feel their chest area is looking a bit deflated due to advancing age
Are There Any Risks?
All types of surgery carry certain risks, so be sure and discuss them all with your GP and your surgeon fully before having any elective operation carried out. Risks of any surgery involving general anaesthesia involve clotting, blood loss and infection, and with this procedure in particular you could end up unhappy with the results or have excess scarring.
Be sure that your surgeon is Board-certified or a member of the British Association of Aesthetic Plastic Surgeons, and think carefully before deciding to have this or any cosmetic procedure carried out. It's your body – take care of it!
You might also like...