Does Cosmetic Surgery Leave Scars?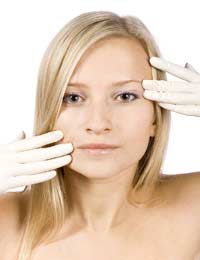 With the vast majority of plastic surgery procedures, scarring is an inevitable result as the wounds begin to heal, whether you have a rhinoplasty or abdominoplasty. However, in most cases the scarring can be reduced, sometimes almost completely, with the help of a skilled surgeon. A scar that is very thin and placed in the right location - behind the ear during a facelift, for example, or next to the areola with a breast enlargement operation, will be virtually invisible. And in most cases, even scars that are visible will eventually fade to almost nothing.
Qualified plastic surgeons are trained to utilise techniques that will minimise scars, and also to make incisions in areas where the scars can be hidden. For example, with a chin implant the incisions are made either inside the mouth, or along the natural crease of the chin fold. Scars can be red and raised for a few month then fade to tiny white lines, which are almost invisible when placed in out-of-the way areas of the body. Please be aware, however, that there are some parts of the boy where scars are inevitable, such as the back.
What Can I Do to Minimise Scarring?
Proper wound care is central to this process, which means following your surgeon´s directions to the letter. Some surgeons employ techniques such as silicone pad applications, which make scars appear less visible. You should discuss all potential scarring with your cosmetic surgeon beforehand, and decide together how to make them less conspicuous - by making incisions in areas that will be covered by hair when having a facelift, for example.
What About Keloid Scars?
A keloid is a scar that is thickened or raised outside the circumference of a regular scar. People with darker skin are more prone to keloid scars, and they require more aggressive treatment than other scars, such as steroid injections.
Can Vitamin E Get Rid of Scars?
There is no conclusive scientific proof that it will work in removing scars, and a percentage of patients actually have a bad reaction to it. Some surgeons say that putting Vitamin E on and then massaging a scar will have the best effect, but that is probably due to the massage more than anything else. Taking Vitamin C and zinc orally can help reduce the appearance of scars.
What About Lasers to Eradicate Scars?
Older scars probably will not benefit from laser treatment, although new scars could. Any scar will require at least three or four treatments with a laser, and even then there may not be any significant improvement. Lasers work better with problems like acne scars, which are different than plastic surgery scars.
What About Scar Creams?
Be wary of spending money on creams, unless the scar is less than a year old. The best advice is to stay out of the sun, as it can lighten or darker a scar for as long as a year after surgery. Either cover the scar up with clothing or if this is not appropriate, wear an SPF of 30 or more and apply it vigorously and conscientiously.
Scars are an inevitable part of plastic surgery. But there are tried-and-tested ways to minimise the visibility of scars, top of which is getting a good surgeon - and carefully and assiduously following his or her aftercare instructions.
If you want to look better with no scarring, try a non-surgical procedure such as Botox. Better yet, a healthy diet, plenty of exercise and a new hairstyle or manicure can often work wonders!
You might also like...