Can Men Have Breast Reduction Surgery on the NHS?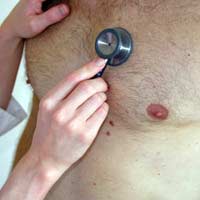 It´s a condition that can cause embarrassment, mental pain and self-hatred. Men who have it often feel they´re the only one in the world to suffer, yet it´s incredibly common. ¨Manboobs¨, known medically as gynecomastia, or male breast enlargement, can cause humiliation, teasing and untold traumas. Yet it´s relatively easy to get rid of.
Why So Some Men Have Larger Breasts?
Gynecomastia can happen at different times in a male´s life, and for many varied reasons. Some newborn boys have larger breasts as a result to exposure to hormones in mother´s milk, but this usually disappears with time. In their teens, some boys experience the growth of one or both breasts as a result of hormonal changes in puberty, but this usually disappears as well. The problem is when adult males have larger breasts that show no sign of going anywhere.
Most male adult growth happens when may become overweight, causing fat to accumulate in the pectoral regions. Sometimes this is glandular tissue instead of fat, or both. Occasionally in older age manboobs are a result of hormones, but this is more rare. Occasionally they are caused by disease such as kidney failure, impaired liver function or tumour, and sometimes by the use of certain drugs, but usually they are just caused by being overweight. If losing weight does not sort this out, then surgery may be the answer.
What Does Breast Reduction Surgery for Men Involve?
Male breast reduction surgery takes anywhere from one to three hours, depending on the patient, and a general anaesthesia is used. The surgeon will make incisions around the nipple and on other chest areas, then liposuction takes place. This means that a small tube called a cannula is used to suck out excess fatty tissue in the area, while glandular tissue can also be got rid of. Later, the cuts are stitched together to form a more contoured and significantly flatter chest, one that looks more like a pectoral than breastal region.
What is the Recovery Period Like?
You will experience some swelling and bruising for a few weeks and will need to wear a Lycra support garment over the area for at least a fortnight. You will need to refrain from strenuous activity for some time. Please note that only men who have elastic skin are good candidates for this operation, as after the fat or tissue is removed the skin must be stretched tight over the area.
What are the Risks?
Risks are generally the same of any operation involving general anaesthesia or reconstructive surgery, and include bleeding, infection etc. Problems can also include slow healing, nerve damage, numbness, mismatched breasts, noticeable scars, and general asymmetry of either breast, nipple or both.
Can I Get the Surgery on the NHS?
Only in some cases. To qualify for cosmetic surgery on the NHS you must meet specific requirements, and will have to meet with both a plastic surgeon and a psychiatrist, to see how badly the condition is affecting you. You will have to start by getting a referral from your GP, so don´t be embarrassed to ask for one. If you have this operation privately, it will cost anywhere from several thousand pounds on up, with costs varying according to clinic, location etc.Plastic surgery to reduce the size of a man´s breasts can change a man´s entire outlook on life, but should not be entered into lightly. If the condition is caused by obesity, a diet should be tried first. Always use a certified surgeon and don´t be afraid to get help. Having manboobs need not be a permanent condition. Good luck!
You might also like...